[UPDATED] Gigi Hadid and Karlie Kloss Play Power Moms for Versace's Fall Campaign
It's a total 180 for the brand.
Twenty years after their last project together, Donatella Versace and Bruce Weber are joining forces again for the sexy Italian brand's fall 2016 ad campaign. 
The New York Times has the scoop on the change in direction, with Versace telling Vanessa Friedman: "Versace's image is so much about the red carpet. But I wanted to make day clothes fierce. You know: She's a superstar, and she runs her business, and she runs her family too."
To that end, Versace tapped Karlie Kloss and recent muse Gigi Hadid to play power moms in a much less glossy campaign than we're used to seeing from the brand. Never mind that the children in question look to be at least 7 or 8 years old — meaning Hadid and Kloss would have become mothers at 14 and 16, respectively — they also just don't look like moms. If Versace was sincere in wanting to "show [fashion] could be a part of many different lives," she probably could have casted one of the many stellar supermodels out there who are moms in real life, too.
However, it is nice to see diversity and multi-culturalism represented in fashion advertising. Weber had the idea to shoot in Chicago after reading a New Yorker story on local controversial figure Father Mike and used real men from the city to round out the campaign. They shot in the studio and on location, with Versace noting, "[We] had to go to the supermarket too, because really powerful women also go to the supermarket." (Side note: Would anyone else pay to see Donatella Versace in a supermarket? Weber promises he has a picture.)
A former bodyguard and Afghanistan vet plays Kloss's partner, and Versace gifted a group of hip-hop dancers the suits they wore in the campaign. They'll be needing them again soon: Versace will be bringing them to Milan for the menswear shows. "They were important because they speak a different language from me — literally, but also generationally, and fashion needs that," Versace told the NYT. "Otherwise we will all be left behind. I think."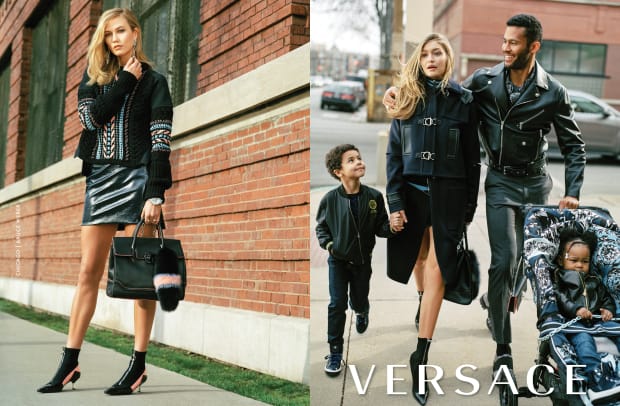 June 6, 2016: This post has been updated to include hi-res images from Versace.
Homepage Photo: Imaxtree
Sign up for our daily newsletter and get the latest industry news in your inbox every day.