Gucci's Eccentric Aesthetic Gets an English Twist at Westminister Abbey
There were cats, dogs, tartans and piles of accessories.
Gucci's Alessandro Michele is at the white-hot center of fashion at the moment — and if you were beginning to worry that the colorful, eccentric, vintage-inspired sensibility he has infused into the storied brand would begin to look a bit tired, worry no more: This man is full of ideas. On Thursday afternoon, Michele showed an extensive cruise 2017 collection at London's Westminster Abbey — the coup of the season, venue-wise, as no fashion brand has ever showed there before — that combined the best of what he's brought to Gucci with a special tribute to England's own rich costume history.
It was an impressive offering: Michele showed 96 looks so elaborately accessorized — rare was the model without stacks of jewelry, a hat, a handbag, perhaps a pair of glasses, a scarf and some standout shoes — one was grateful the men and women moved down the runway at the processional pace befitting the setting. And there was so very much to zoom in on: jewel-like turbans and earrings as large as a fist; sky blue booties with red-and-white stripes; fur coats striped in ochre and orange or in brown mink with red snakes slithering up the front; a floor-length orange dress decorated with peacocks and ruffled bib; a gold brocade jacket with leg o' mutton sleeves; neat little wool jackets and knits with ruffled shoulders. Lest it all seem too serious, cats and dogs, either embroidered or appliquéd, adorned the fronts and backs of many a dressy coat and jacket, along with the slogan "Love Is Blind" — which was nicely underscored by the myopic, double-frame lenses many of the models wore. Given the recent success of Vetements hoodies, there will no doubt be a run on Gucci's oversized, logo-ed version.
A black leather dress with a tiered skirt and poufed sleeves was a nice tribute to historic British costume; so too was a tartan gown with a leopard-embroidered waist and a leisurely take on the guardsmen's red coat. Gucci's featured, as you might expect, a rich fur collar.
It's a collection that will take some time to digest. But it was one that lived up to the hype around the show and the venue — and that is an exceptional feat.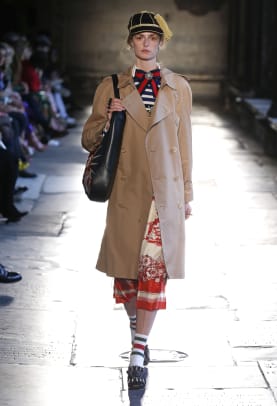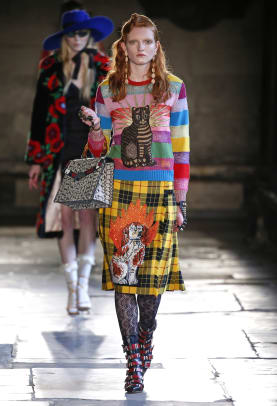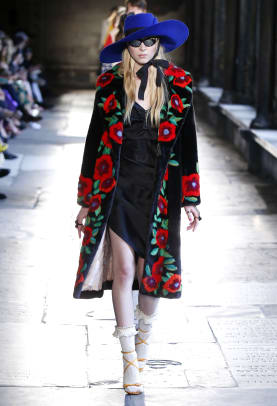 Never miss the latest fashion industry news. Sign up for the Fashionista daily newsletter.