Jourdan Dunn Fronts #ActuallySheCan, a Campaign Inspiring Female Empowerment
Actually, she's the perfect choice.
It's the day after the Met Gala and Jourdan Dunn is cheery and relaxed, sprawled out on a studio couch in head-to-toe sweats by Vetements. She's running on four hours of sleep, but you could never tell: Dunn is used to being on-the-go as a model, whether it's skipping from runway to runway during fashion week or flying between New York City and London, the two cities she considers home. She's just wrapped up her photo shoot for #ActuallySheCan, a campaign focused on female empowerment and fueled by women's healthcare company Allergan in Dublin. "I love the message about empowering women to achieve their goals big or small," says Dunn. "It's all about inspiring women, supporting each other and I'm all for that."
#ActuallySheCan teamed up with Le Motto on a trio of limited edition tank tops emblazoned with the brand's signature phrases of inspiration, such as "Less hesitation, more meditation" and "Less regret, more sweat." And who better to front this new collection and campaign than Dunn? Her ambitious career goes far beyond a stellar modeling portfolio with accomplishments that span from fashion and film, to cooking and philanthropy for causes like sickle cell anemia and diversity in the fashion industry, a topic that she's been very vocal about for years. (Dunn has broken barriers when it comes to the rather homogeneous industry, being the first black woman to walk the Prada runway in a 10 years and the first to cover British Vogue in 12 years.)
And Dunn is still going. Aside from having a part in "Zoolander 2" this year, she'll be making appearance in the upcoming "Absolutely Fabulous" this summer, which will also include Kate Moss as one of the 60 fashion people cameos in the series-turned-movie. In August, the second collection of her children's line for Marks & Spencer will launch. Heavily inspired by her six-year-old son and the frustrations that sometimes come with shopping for kid's clothes, Dunn found her new fashion gig exciting yet overwhelming at first, telling Fashionista, "It's a lot of things you need to get your head around. You have to think about every small detail." But she says that she's 100 percent ready to take on the line's next phase. This time, she wants to go more fashion-forward with her designs with a "street, sports luxe vibe." "Just doing things that I love and people giving me the opportunities to take it to another level where I didn't think I could take it is amazing to me," says Dunn. 
So what's next on her radar? Skincare is certainly an option. If you scroll through Dunn's Instagram, it's no secret that she takes her beauty routine seriously. Even if she got home from the Met Gala at 5 a.m., she "still had to do my whole thing of taking off my makeup with a double cleanser and everything." Dunn has always taken care of her skin since she was young — with Clean & Clear, specifically — but once she started modeling, she was introduced to makeup artists and a whole slew of beauty products. During her first fashion week, she was gifted with Crème de La Mer. "From then, I was hooked," she says. "I get so excited going into Sephora or duty-free or going on Cult Beauty and finding the different skin care stuff. I get more excited about that than clothes now." Dunn hopes to start her own skincare line in the next five years.
When it comes to new situations and projects, especially those that don't have to do with Dunn's core modeling career, Dunn describes the experience as a mixture of emotions: excitement, nervousness, the fear of messing up, but also the desire to impress. Her advice on how to overcome that is something everyone can apply every day: "You have to be in the moment. Just enjoy it and take it all in." Sounds kind of like "Less hesitation, more meditation," right?
View the rest of the campaign and Le Motto tank tops, which are available at LeMotto.com/ActuallySheCan, in the gallery below, and find out more about #ActuallySheCan by visiting or registering at ActuallySheCan.com.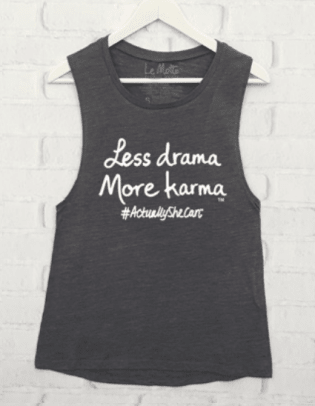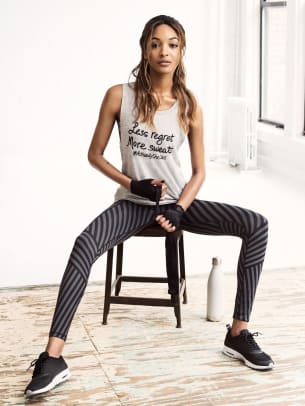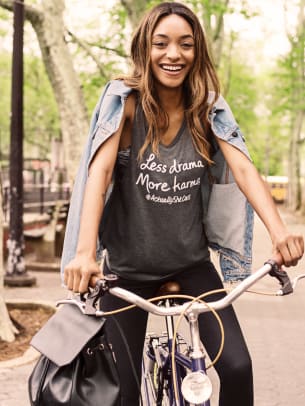 Want more Fashionista? Sign up for our daily newsletter and get us directly in your inbox.