Jeremy Scott Shows a Colorful, Diverse Tribute to Los Angeles for Moschino Resort 2017
After ogling Anwar Hadid, Cindy Crawford and Caitlyn Jenner, we spoke with Scott about the inspiration for his latest, trippy Moschino offering.
When you live in Los Angeles, there are inevitably things that you lovingly or derisively call "so" LA. That time that guy you think was on "The Bachelor" a few seasons ago hit on you, when Obama comes to town and traffic is so bad you can't leave the house for 48 hours, or when your friend is on a cleanse so it's best for everyone to just not hang out with her for its duration. But Friday night's Moschino show was maybe the most fun "so" LA thing I've ever experienced.
Held downtown in a massive tent on L.A. Live's Event Deck space, the show headlined the first-ever Made Los Angeles, a two-day fashion event from the people behind Made Fashion Week. Creative director Jeremy Scott, who lives in LA, showcased both spring 2017 (for men) and resort 2017 (for women) with a kaleidoscopic 60s-inspired collection of neon colors, trippy patchwork and no shortage of flower power.
Exceptionally true to Scott's consumer-facing model, tickets to the show (ranging in price from $55 to $400) were available to the public. Before the show started, a small army of Moschino-clad selfie-taking Scott stans ambled outside the tent in "The Shops," a series of booths filled with local and new designer merch, all available for purchase.
The show space itself was an ode to psychedelic '60s LA; all vibrant pulsating colored lights, and a part-animal, part-flower balloon centerpiece directly out of the trippiest of acid trips. The front row was bathed in Hollywood bold-names, including Katy Perry, Caitlyn Jenner, Vanessa Hudgens, Serayah and Bella Thorne.
But it was Cindy Crawford who caught the most attention at the front of the house. The supermodel showed up with the rest of her influential family to support her son Presley Gerber as he made his runway debut alongside Anwar Hadid, the youngest of another top-tier, LA-based modeling family.
Miranda Kerr, Alessandra Ambrosio, Chanel Iman, Jourdan Dunn, Devon Aoki and Taylor Hill were among the more established big names who walked. But the biggest crowd reaction came when model Anna Cleveland glided down the runway, arms outstretched and floating in a neon orange silk dress printed with its own set of bejeweled arms, creating a—well, trippy—illusion that fit right into the show's themes.
Scott sat down with me after the show to chat about just how much he loves LA, "Valley of the Dolls" and his Miss Universe aspirations.
This show could not have felt more LA. Can you talk a little bit about how the city played into your creative process?
The collection is a love letter to Los Angeles. It's all the different inspirations of this city. It's all the different ethnicities of Los Angeles—there's Indian, Guatemalan, Mexican. I also did the pop flower that was the very surfer style that was kind of the calling card of '60s LA. I really wanted to play with all these different archetypes and kind of mix them together. Like things I love to wear, like beads and the bohemian look and even goth, but all in a very pop way.
Speaking of "pop," my very favorite book of all time is "Valley of the Dolls." Watching the show, I felt like it was Valley of the Dolls on extra dolls.
I love that!
Was the book or movie part of your inspiration?
No, but—well, I can't say more than that because it will give away secrets.
I was really impressed with the diversity of the show. Is that something you think about?
Absolutely. LA is one of the most diverse cities in the world. And [African-American] Miss USA [Deshauna Barber] is here! That woman is such an inspiration and such a beauty. I told her I want to be part of anything she needs. I want to dress her for Miss Universe.
While pageants have never really been my thing, I will definitely be in for the first Moschino pop psychedelic Miss Universe contestant.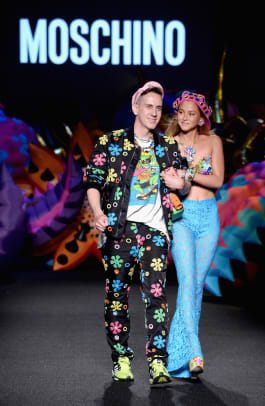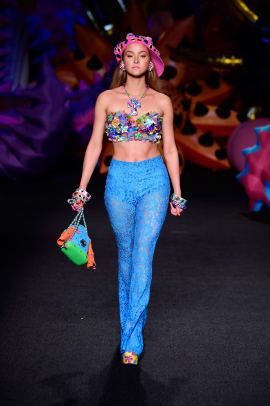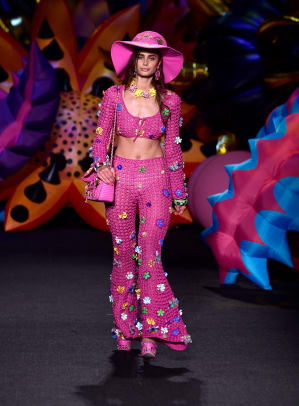 Want more Fashionista? Sign up for our daily newsletter and get us directly in your inbox.