Rosie Assoulin's Resort Collection Will Definitely Make You Smile
And remind you to eat your veggies.
Resort season is currently in full swing, and as shoppers' appetites for newness keeps growing, designers are pushing those in-between seasons harder, making them bigger and even trying to maximize their Instagram reach. And under all that pressure, it feels like sometimes designers forget to have fun.
Not Rosie Assoulin, who has consistently managed to strike a perfect balance of whimsy and wearability in all her collections. Never one to stick with a singular inspiration point or theme, her resort 2017 offering was filled with quirky and nostalgic details, many of them food-related, like: a semi-sheer tunic and pant combo adorned with various three-dimensional fruit and vegetable motifs; a top cut in the shape of a strawberry, watermelon and bananas; and gown with bundles of grapes affixed to it. There were some wallpaper-esque striped and plaid dresses, skirts and jackets, and an abundance of seersucker and ruffles — and who doesn't love seersucker and ruffles?
The collection offered a variety of explosive shapes and surprising colors. Resort collections tend to err on the side of safety (as they spend the most time on the sales floor, commercial viability tends to be a priority) but this one was bold and fearless, while still holding plenty of commercial appeal — at least for the hordes of fashion girls who love the designer. (We saw one Alexa Chung introduce herself to, and praise, Assoulin at Monday night's CFDA Awards.)
The designer actually launched her line with a resort collection, so perhaps she feels like there's a little bit less pressure than in fall and spring. Whatever the reason, this was a joy-inducing range of clothes and the look book even features some styling ideas you can start employing now. Browse it below.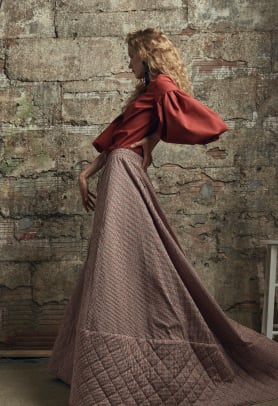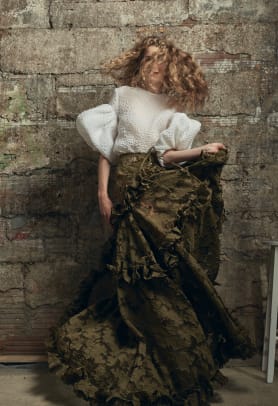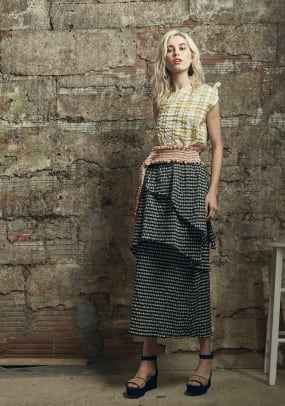 Want the latest fashion industry news first? Sign up for our daily newsletter.