Behind a sheer, black floor-to-ceiling curtain, three models stood in military-like formation: One wearing a blush belted coat with green lining over a bustier dress; one in a black pantsuit with a side-pleated jacket; and the last in a boxy trench with a violet silk slip dress underneath. These looks ushered in a strong Atelier Versace collection. It was slightly more commercial than usual with a focus on daywear garments, in which intricate draping and folding based on couture techniques created dress shapes that curved around the body. While Naomi Campbell watched from the front row, many of her fellow supermodels — Karen Elson, Carolyn Murphy, Sasha Pivovarova, Iselin Steiro — walked the criss-cross runway alongside new stars like Bella Hadid, who wore a sumptuous, long red dress.
Using mainly the tightly cut silhouette she has developed over the years, Donatella Versace draped and sculpted fabric to curve across the body. For example, a black long dress slit high on one side was accented with a nude silk gathered fabric that swirled like high waves and then fell to the side as a train. Ornamentation was kept to a minimum, with beading only showing up on a handful of dresses and leather biker jackets. Sometimes applying a few simple techniques in-depth works handsomely, rather than deploying an onslaught of methodology or handiwork that can overwhelm the actual garments. Just look at the black pantsuit with an asymmetrical jacket at the opening of the show.
At the finale, the models lined up in three single file lines like a military march. They stood at full attention, waiting for their commander in chief to take a bow and concluding an Atelier show featuring a wider range of options (like the fall ready-to-wear show's more athletic approach) than in previous seasons, where the focus was on eveningwear. This is Versace for a new generation of women.

Long Nguyen is the co-founder and style director of Flaunt.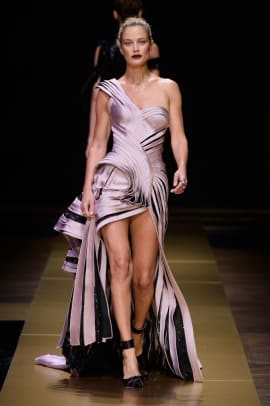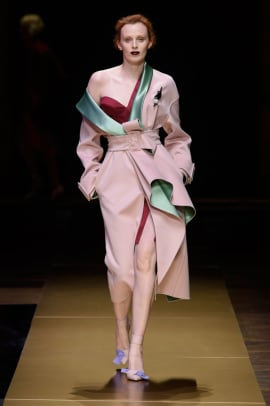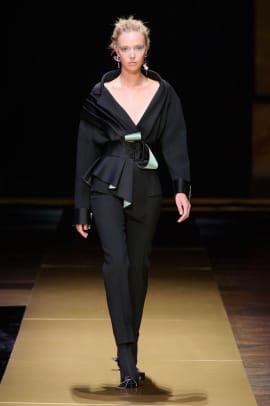 Stay current on the latest trends, news and people shaping the fashion industry. Sign up for our daily newsletter.