Chanel Honors Its Atelier at the Fall Couture Show
The backroom "petits mains" took center stage in Paris.
Atelier Jacqueline is normally located on the fourth floor of the Chanel headquarters at rue Cambon. Madame Jacqueline specializes in tailleur (or tailoring), which means that the atelier is devoted to structured clothes rather than the flou atelier that concentrates on softer lines and fabrics for dresses. On Tuesday, in the circular theater where the Chanel couture show was set, the desks, drawings, pins, needles, fabrics and all of the tiniest details — like a summary sheet for certain garments showing their respective stage of completion and signed off by each specialized worker — were on display. In fact, the entire Chanel atelier temporarily moved. The backroom "petits mains" (or "small hands") as they are called in French who bring the sketches to life became the center stage for a collection that is worthy of the majestic label of haute couture.
It is hard to imagine the amount of work and resources required to make an haute couture outfit, but with the backroom as the main attraction, the audience could see the precision, details and materials used. The finished products from Madame Jacqueline made up the opening sequence of the show, with the classic Chanel suit updated in gold and black tweed with a high shoulder treatment and shorter pants; in brown tweed with open neck lapels and satin trims; and in grey tweed with a round high collar and splattered embroideries. These permutations of the classic suit are the bread and butter of the collection. As the show progressed, more marvels came along: a coat made of squares in shades of blue and grey; a glass beaded dress with a front panel over tulle; a light beige floral and feathered long dress with black bows; and a black and white 3D plastic embroidered jacket and long skirt. 
Over the past decade, Chanel has invested in purchasing all of the traditional small artisan houses that specialize in embroideries like Lesage, or hat making like Michel, and provided each house with a new business structure in order to prosper. The survival of these skilled workers is essential to the fabric of Parisian fashion — and not only for Chanel, as they work with all of the established fashion houses in the city. As he took his bow, Karl Lagerfeld even walked arm-in-arm down the runway with members of his atelier, making for a moving moment of appreciation.
These Chanel haute couture garments are the result of the work of these ateliers outside of the house combined with Chanel's own — a unique system of making clothes that can only exist in Paris.
Long Nguyen is the co-founder and style director of Flaunt.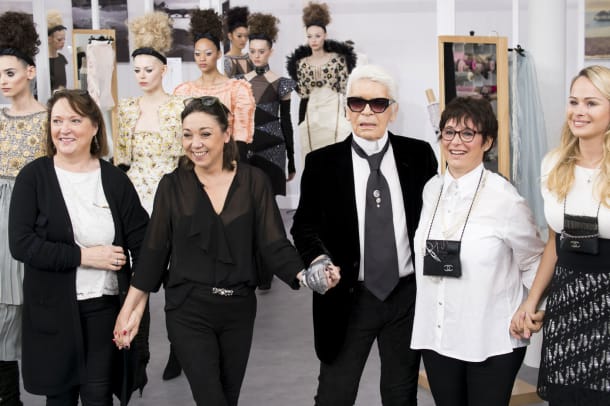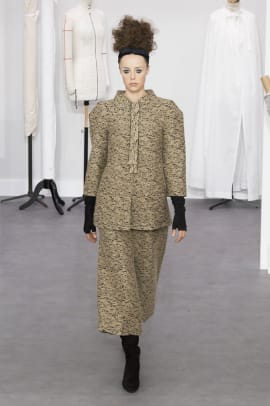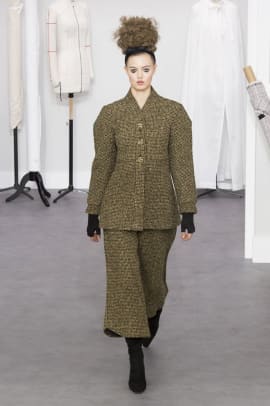 Want more Fashionista? Sign up for our daily newsletter and get us directly in your inbox.