Dior Makes a Case for Daytime Couture for Fall 2016
The atelier showed easy pieces that seemed to float on the models' bodies.
Home is always where the heart is. At Dior Haute Couture, returning to the source (both in a literal and physical sense) was about going back to the foundation of the house — the ateliers — and showing the fall 2016 collection at the couture salon, just how it was done in the early years of the brand. This meant the idea of the famous Bar silhouette — an hourglass jacket paired with full skirt, dubbed the New Look in 1947 — permeated the entire collection, though updated at times. The range was rendered with meticulous craftsmanship, almost all in black and white — save for a few looks in modest gold and silver, with embroideries accenting the soft feminine clothes.
In freshly painted white salons on the second floor of the Avenue Montaigne headquarters, models swirled about wearing pieces that seemed to float on their bodies (rather than constricting them), and that weren't overwrought with elaborate handiwork — as is the case with some haute couture collections. Instead, the girls wore easy clothes like white elongated pantsuits, a black Bar jacket and skirt with pleated trims, or an unlined soft version Bar with an embroidered tulle skirt. 
The opening look of a loose black tank over a flared skirt was indicative of the entire mood of daytime couture clothes, devoid of serious decorations; the most opulent garments were a black tulle off-the-shoulder dress with gold sparkles and a black, puff-sleeved dress with silver twinkles. You can see the Dior customers easily adapting these clothes into their daily lives.
Long Nguyen is the co-founder and style director of Flaunt.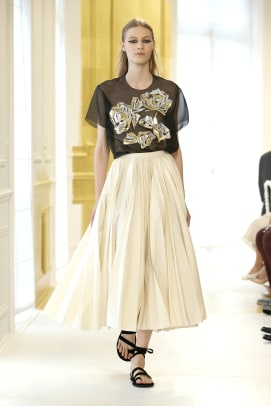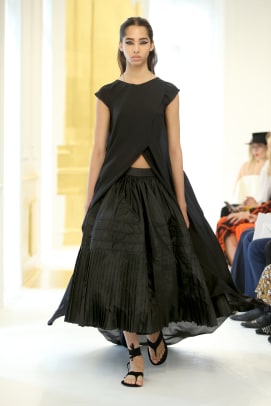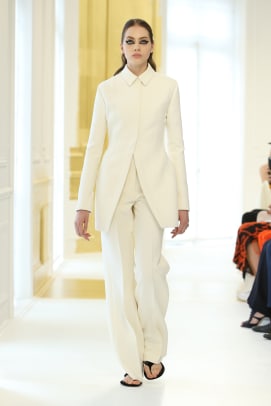 Want more Fashionista? Sign up for our daily newsletter and get us directly in your inbox.