Hey, Quick Question: Were You Sleeping on Gucci's Amazing Kids Line?
Beyoncé and Blue Ivy have shed a light on the fact that you, too, can do Mommy-and-me Gucci.
Welcome to our column, "Hey, Quick Question," where we investigate seemingly random happenings in the fashion industry. Enjoy!
Gucci campaigns, with their live exotic animals and cinematic captions, might be cool, but we'd argue that the Italian fashion house's many celebrity fans are doing a better job of selling its clothes.
Lately, we've been especially obsessed with the copious free (we assume) advertising that Beyoncé and her four-year-old daughter Blue Ivy Carter have been giving the brand, going so far as to melt our hearts with matching Gucci looks on more than one occasion. On Tuesday, they essentially photographed their own Gucci campaign on a Paris balcony in matching light-blue dresses covered in flowers and, of course, bees. Bey even accessorized with a pair of cat-eye glasses — a signature styling piece for the brand — while Blue wore Bonpoint shoes.
Just last week, Blue wore a fuchsia Gucci blouse and skirt to pose for her aunt Solange. This was a long-awaited follow up to the Carters' first iconic Gucci moment in May, in which mother and daughter wore matching embroidered denim jackets. But what some may not realize is that you don't have to be Beyonce's daughter to wear mini Gucci. 
The brand's childrenswear line got an Alessandro Michele-infused revamp this year, and there are plenty of whimsical, floral dresses, retro-tie necklines, pleated skirts, animal-printed tops and more to go around for kids aged four to 12 — many of which have matching adult-sized counterparts.
Click through the gallery below for our favorite examples, all shoppable right now. But be warned: While you don't have to be famous to get these looks, you still kinda have to be rich. While Gucci for kids costs a fraction of the price of grown-up Gucci, it ain't exactly cheap.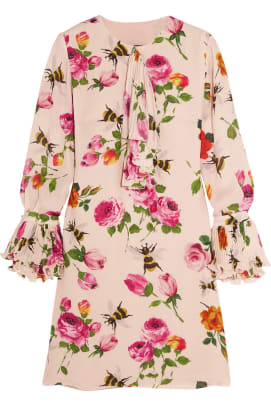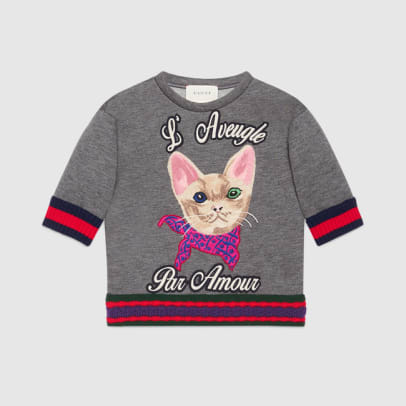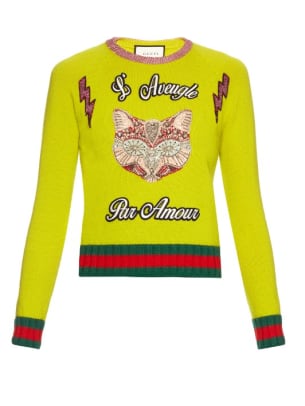 Want the latest fashion industry news first? Sign up for our daily newsletter.