5 Fall 2016 Ad Campaigns Improved by Pokémon
Francis Phommisai of Pokéxfashion reimagines some of the season's best campaigns with Pokémon.
Unless you've been living under a rock, you've probably heard that pretty much everyone in the universe has become obsessed with Pokémon Go, the augmented reality app that lets users catch Pokémon IRL. It immediately reminded us of one of our favorite Tumblrs, Pokéxfashion, which took already amazing fashion campaigns and editorials and made them even better with the addition of cute creatures from the Pokémon world. Last week, we picked 10 of our all time favorites, but it seemed like Pokéxfashion was a thing of the past.
Luckily for us, it isn't. We reached out to Pokéxfashion creator Francis Phommisai, who took five of the coolest ad campaigns from fall 2016 and gave them his signature Pokémon treatment — exclusively for Fashionista. Personally, we think he made them even cooler, but we'll let you be the judge. Check out Phommisai's versions of the fall campaigns from Dolce & Gabbana, Gucci, Versace, Miu Miu and Louis Vuitton below.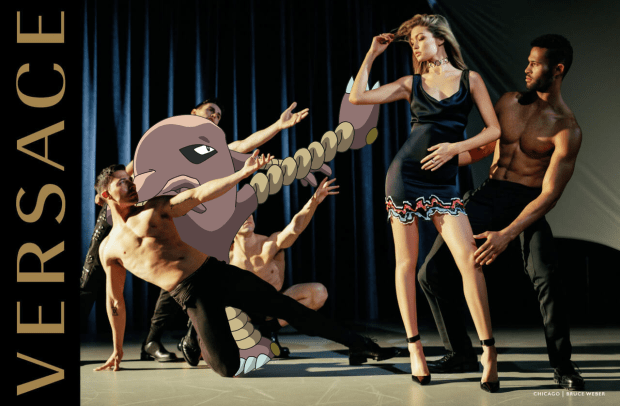 Want the latest fashion industry news first? Sign up for our daily newsletter.