There Are 27 Models in Prada's Fall 2016 Campaign
Can you name them all?
Prada released its fall 2016 campaign on Monday, and it stars a whopping total of 27 models — nine times more than its previous campaign, which showcased a modest trio of faces, including model-to-watch Yasmin Wijnaldum. The justification behind such a large cast, according to Prada, is so a single face isn't linked with the Italian fashion house's latest collection. 
If you can identify every model at first glance, then kudos! You probably can recite the digits of Pi, too. If you can't, Prada has conveniently credited each one, which you can skim through below:
Roos Abels
Noemie Abigail
Vanessa Axente
Yoon Young Bae
Lexi Boling
Vittoria Ceretti
Danielle Ellsworth
Freja Beha Erichsen
Angelica Erthal
Sara Dijkink
Paulina Frankowska
Amanda Googe
Caitie Greene
Ondria Hardin
Milla Jovovich
Lorena Maraschi
Amanda Murphy
Londone Myers
Julia Nobis
Marina Perez
Sasha Pivovarova
Fei Fei Sun
Stella Tennant
Rianne Van Rompaey
Natalie Westling
Kiki Willems
Raquel Zimmermann
The campaign continues on with the theme of the worldly Prada girl from its runway show in February, using fashion's favorite medium of collage. (Karl Lagerfeld also used collage for Chanel's fall ads.) Each look is set against seemingly random picturesque backgrounds, from the Aurora Borealis to a starry cityscape, and highlights the medley of prints, materials and details within the range, including argyle, brocade, illustration, leather, satin and velvet. "In dressing each morning, a woman recomposes her unique collage of a life. Therein lies her strength," explains the press release, which is pretty damn poetic way to describe what happens when you're standing in front of your closet not knowing what to wear.
Click through the gallery below to see the entire Prada fall 2016 campaign.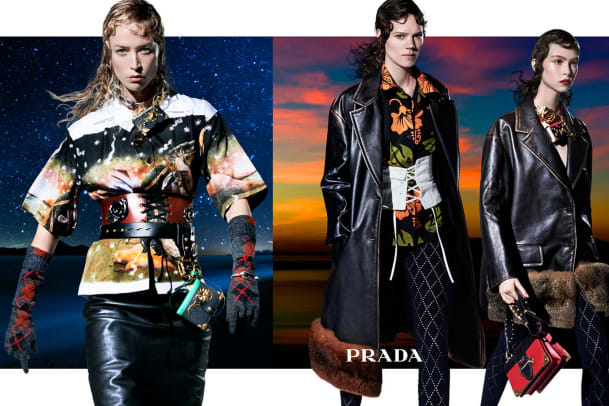 Want more Fashionista? Sign up for our daily newsletter and get us directly in your inbox.