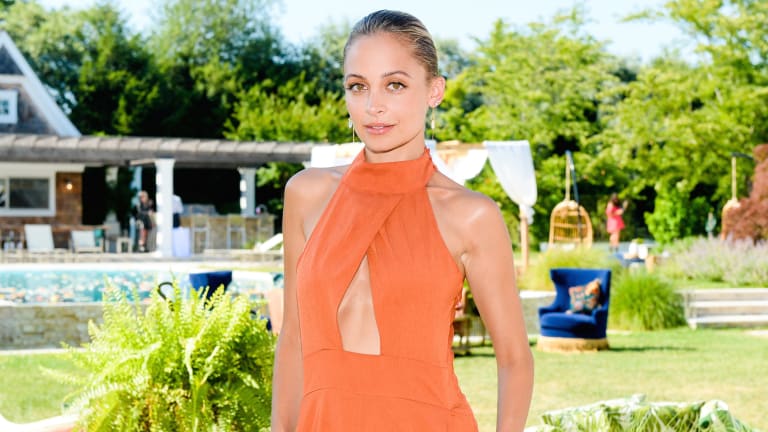 Inside the Revolve House, the Buzziest Brand Activation of the Summer
For four weekends in July, Revolve hosted celebrity and influencer-packed parties at a Water Mill mansion — getting on the radar of millions of shoppers in the process.
As you've likely noticed if you're plugged into social media of any sort, the women's e-commerce site Revolve rented a house in the Hamptons for the month of July. The corresponding hashtag, #RevolveintheHamptons, contained nearly 5,000 Instagram posts at press time. The guest list read like a Who's Who of Hollywood's biggest social media stars — Chrissy Teigen, Hailey Baldwin, Kim Kardashian and Nicole Richie each hosted an event — and the 20-plus ladies who were invited to take up residence in the house are among the most influential (and most expensive) style bloggers in the world.
In what can best be described as a sorority house for social media stars, influencers from 12 different countries — in addition to their photographers and select guests — were given one of the Water Mill, NY mansion's nine rooms (or one out back in the fully loaded, two-story pool house) for an activity-filled weekend stay. A good percentage of the invited bloggers boast a following of over 1 million on Instagram; they include: Natasha Oakley (1.8 million), Danielle Bernstein (1.5 million), Chiara Ferragni (6.3 million), Eleanor Calder (3 million), Kristina Bazan (2.4 million), Negin Mirsalehi (3.2 million) and Camila Coutinho (1.9 million), to name just a few. 
Planning this activation was no small feat on Revolve's part — logistically or financially. According to Zillow, the 6,363 square-foot home rents for an estimated $37,500 per month, and preparations for the summer event began in the early spring. In addition to taking care of their travel and accommodations, Revolve gifted each influencer with a sizable clothing credit — a source close to the participating talent tells us $2,000 is standard — in addition to paying his or her appearance fee. And for certain agency-backed bloggers, like Bernstein and Bazan, who are both represented by Next Models, this can easily run in the tens of thousands of dollars. Each guest was required to post using the designated hashtags twice per day; although, with the property's ample manufactured opportunities for Instagram "moments," most invitees seemed to far exceed that post count. Throughout the summer, social media buzz about the retailer spread like wildfire.
To keep up said buzz, each weekend saw a different mix of personalities, events and activities; but throughout the month, group dinners, organized workouts and jaunts out to Montauk or Shelter Island for beach time or sailing were standard on the itinerary. Revolve also made sure to provide some exclusive entertainment gratis for partygoers, including a performance by up-and-coming rappers Desiigner and D.R.A.M., a two-weekend residence by tattoo artist Jon Boy (he's inked Baldwin, Justin Bieber and Kendall Jenner, and normally charges $300 per hour), a DJ set by Off-White's Virgil Abloh, and an open bar thanks to partnerships with Patrón and Moët. Of course, through all the festivities, influencers were dressed head to toe in clothing from the retailer — specifically, in-house labels like Lovers + Friends, Grlfrnd Denim and Tularosa (all of which Revolve owns) — and meticulously logged (and tagged) their many outfit changes on Instagram and beyond.
The result: plenty of opportunities for digitally savvy millennial customers to see the company's products "in context." And according to a recent report from Google, 64 percent of women shopping for apparel on their smartphones are influenced into purchasing products that are displayed in that way.
Clearly, Revolve knows what it's doing. This is the second year that the retailer has rented a house in the Hamptons, and according to Raissa Gerona, Revolve's vice president of brand marketing and strategic partnerships, it's set to far outpace the company's first outing in terms of sales metrics, press and social media impressions. Revolve was a pioneer in the digital influencer marketing space and has built solid relationships with top bloggers over the years — in many cases, before they made it big. (For example, the retailer collaborated with Ferragni for the first time four years ago, and its first-ever blogger partnership was with Rumi Neely back in 2008.) Because Revolve's business is global — outside of the United States, China is its second-biggest market, followed by Australia and Canada — it makes an effort to stay ahead of the curve when it comes to up-and-coming bloggers and talents in each region. 
With more and more consumers discovering new products on Instagram and the like, Revolve is heavily investing in these experiential brand activations jam-packed with bloggers; and according to Gerona, the buzz surrounding them converts directly to sales, in real time — and that's helped to turn Revolve into a $400-million/year business. The retailer has also seen success in bringing groups of its top influencers on international vacations — Jamaica, Croatia and Mexico are among past destinations — as another way of putting its clothing in context, albeit an extremely aspirational one. As for styling the products, Revolve leaves that completely up to its influencers. "We give the girls a lot of freedom because we want them to feel as comfortable as possible," Gerona explained. "We carry over 500 brands, so there's a plethora for them [to draw from]. We want it to always feel organic and natural."
Fashionista was invited to the Revolve house last weekend to celebrate Nicole Richie's exclusive House of Harlow 1960 capsule for the retailer, and I can attest that the grounds are just as meticulous and Instagram-friendly as you'd expect. Aside from cozy clusters of plush chairs, canopied cabanas, lawn games like Cornhole, colorful pool floats, Pinterest-perfect signage (e.g.: an arrow painted with the words "Rosé this way!") and flower petals sprinkled in the pool, the main focal point was a line of shrubbery trimmed to spell out "Revolve."
"Obviously having a brand moment is huge — last year we did it in the pool, but we realized [that made it] impossible to swim," Gerona laughed. "We think about photos... we have to. We're so social-focused and everyone that we host is, too. Making everything as cute and photogenic as possible is always a priority."
As for the guests of honor, the influencers seemed hyper-focused on their deliverables, spending much of the three-hour event taking photos, posing together in groups, or giving their respective audiences a play-by-play on Snapchat. (In short, creating content.) However, buzz around the grounds hinted that the after-parties were where the houseguests had the chance to really let loose — much to the dismay of Revolve's Water Mill neighbors. While I made my exit long before any late-night festivities might have commenced, I'll admit that the atmosphere was surprisingly laid back, especially considering how much was riding on the event from a financial standpoint. But with the combined audiences of Revolve's invited influencers and hosts, along with the retailer's own Instagram following of 1.2 million and counting, it's almost certain that a post containing the #RevolveintheHamptons tag came across your social media feed at some point this July — and for the parties involved, that's an undeniable marker of success.
Revolve's customers and followers can expect to see plenty more activations like the Hamptons house in the future, as there's no better way for the retailer to showcase the Revolve brand vision and lifestyle. With experiences at tentpole events like Coachella and South by Southwest already under their belts, Gerona revealed that her team (of 10-12 staffers) has plans to throw a party in Paris during Fashion Week; but until then, they might take a self-imposed break. "Even though Revolve has been around for 13 years, we almost feel like we're just getting started," she said. "More than ever, we're connected with our customers — we know what they want and we know what we want to do — so now it's about slowing it down and making sure we're doing the right things."
Want the latest fashion industry news first? Sign up for our daily newsletter.