Second/Layer Is a Streetwear-Leaning Menswear Label to Watch
With a Woolmark Prize nomination and a growing global presence, designers Joshua Willis and Anthony Franco are taking Second/Layer to the next level.
For Joshua Willis and Anthony Franco, the Los Angeles-based designer duo behind the up-and-coming menswear label Second/Layer, clothing serves as an extension of one's self — soft in structure and an ongoing companion. And from the excitement that filled the brand's spring 2017 presentation at Skylight Clarkson Square Thursday, they seem to be onto something.
"Dominican playboy swag" was the elevator pitch for this collection, which features easy, interchangeable throw-over pieces made from airy Italian and Portuguese fabrics, like a soft virgin wool short-sleeve polo and a slightly oversized camp-collar shirt. The outerwear — a regular standout for the label — is conveniently lightweight for the warmer season, and includes a brocade bomber, a leather moto and a suede blouson jacket. And like many of today's streetwear-leaning brands, Franco and Willis took inspiration from tour merch, too.
According to Franco, the collection explores an emotional connection, spanning the beginning of a relationship to the end of one with tongue-in-cheek, lovesick-driven text printed on its apparel. (A signature for Second/Layer, this is what initially caught our attention earlier this year.) This season's phrases include "Dream baby dream," "Times go by so slow when I'm with you baby," "Looking for love in all of the wrong places" and "Nothing to dress up to." But if you just want to shout out the brand, hoodies and sweatpants are emblazoned with heavy-duty embroidery that reads "Second Layer" in gothic-style font.
Launched in 2013, Second/Layer represents a new wave of American menswear, characteristics of which include high-quality basics and undone, tailored clothing with a nod to streetwear. Labels that channel the easy vibe of California street style and skate culture have long been a hit among the style-conscious shopper, and that's exactly what Second/Layer does best. Plus, Franco and Willis actually grew up in Los Angeles, which lends some authenticity to the brand's West Coast aesthetic.
Though Second/Layer is primarily known as a menswear brand, the duo identifies it as gender-neutral. "We have some women-specific accounts that sell Second/Layer as well," notes Willis. "As long as it feels good and authentic, I think our women's customer is going to gravitate to it." If demand increases, Franco and Willis would consider offering smaller sizes and women's-specific styles, but they won't compromise the clothing's tailoring specifically. For now, the brand's aim is to expand into footwear, which is a natural progression since Willis and Franco also run a sneaker label called Article Number.
In the meantime, there is plenty to keep them busy. Next week, Second/Layer is up as a U.S. menswear finalist for the International Woolmark Prize, alongside Abasi Rosborough, Matiere, Pyer Moss and Rochambeau. They'll present their capsule collection made from Australian Merino wool in front of a judging panel of industry insiders for a chance to win AU$50,000 (about $39,000) towards their next collection and represent the U.S. among the global finalists. "Luckily for us, we use a lot of wools from mills that are Woolmark-certified," says Willis. "It was more looking at certain qualities that we wouldn't necessarily look at before, like weatherproof wool gabs. It was a cool, educational process to learn the different developments people are doing with wool."
Second/Layer also has plans to grow overseas, and the designers recently moved their production and development to Portugal. "We have really good partners out there — facilities, resources, suppliers, mills that develop our own knitwear and woven textile materials," says Franco. "Moving out there went really well, and we already have a lot of interest from some of the best stores in the U.K."
Browse Second/Layer's spring 2017 collection in the gallery below.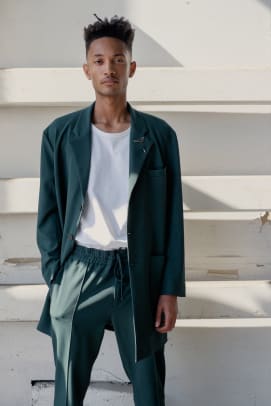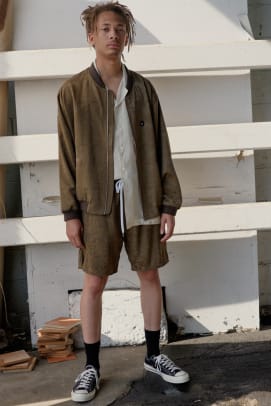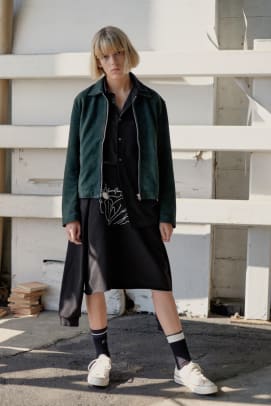 Want more Fashionista? Sign up for our daily newsletter and get us directly in your inbox.