Tiffany & Co. Taps Celebrity Faces for the First Time
Lupita Nyong'o and Cool Teen™ Elle Fanning star in the brand's fall campaign styled by Grace Coddington.
Even legacy brands aren't protected from the current struggles affecting the luxury market. New York's Tiffany & Co., perhaps best known for engagement rings and "Breakfast at Tiffany's" (movie and song), is facing falling profits and stock prices. But the brand is also in the middle of a turnaround, according to Business of Fashion, and it's starting with the fall campaign.
In an effort to shake off some of the dust from its image and appeal to a younger demographic (those valuable #millennials!), Tiffany & Co. tapped Grace Coddington back in April to make over its campaigns. While her first one isn't a huge departure for the brand, it is different: Coddington cast models Natalie Westling and Christy Turlington alongside actresses Lupita Nyong'o and Elle Fanning, marking the first time celebrities have starred in a Tiffany & Co. campaign.
The stars aren't the only changes. Coddington switched things up in terms of art direction, having the women pose in a studio instead of on the streets of New York. Instead of shooting still-life imagery of the jewelry, she chose to focus on close-ups as they're worn.
Future campaigns from the brand will feature a relaunch of its affordable "Love" collection with the slogan "#lovenotlike" (millennials! hashtags!) and a collection from designer Reed Krakoff.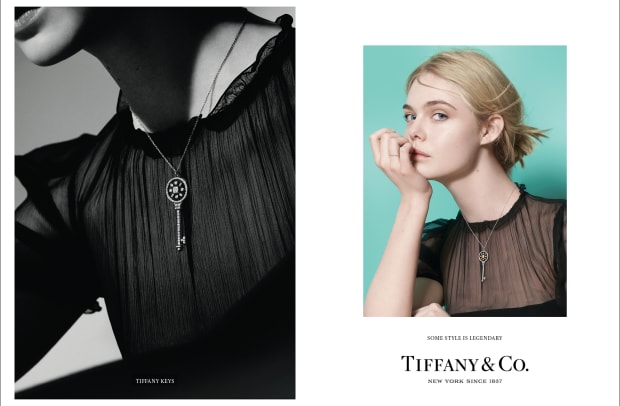 Update 7/20/2016: This post has been updated with images from Tiffany & Co.
Homepage photo: Stefanie Keenan/Getty Images for Marie Claire
Want the latest fashion industry news first? Sign up for our daily newsletter.