Hey, Quick Question: Why Do All the Zayn Magazine Covers Look the Same?
An in-depth analysis.
Welcome to our new column, "Hey, Quick Question," where we investigate seemingly random happenings in the fashion industry. Enjoy!
Zayn Malik has been having quite the 2016, and it's not even halfway done. The year has seen the 23-year-old "It" Brit release a solo album, break up and get back together with Gigi Hadid and launch a line of fashion-approved merch. Taking all this into account, it's not exactly surprising that magazines are clamoring to put his sultry mug on their covers. But, the thing is: Why do all these photo shoots end up looking, uh, kind of the same?
Let's begin with Malik's Interview cover from Sept. 2015, featuring him shirtless with an expression of melancholy on his face. Appearing to be taken selfie-style (an appropriate choice for the magazine's "#Me" issue), the mood is hazy and provocative, marking the beginning of his personal rebranding away from his boyish (and facial hair-less) days as a member of One Direction. (He had announced his exit less than six months before.)
A few months later, Malik appeared on Billboard's first issue of 2016. Clad in leather jackets and t-shirts with his tattoos on full display, the editorial played up a new, edgier pop star aesthetic. The Miller Mobley-lensed images made one thing clear: Whatever his forthcoming solo album would end up sounding like, it would be a far cry from "That's What Makes You Beautiful."

Just as winter turned to spring, we found Malik covering the April/May issue of Complex. The primarily black-and-white spread was rife with images of Malik — again, shirtless — in all his inked glory. 
Fast-forward to this summer, and there's a complete and utter deluge of Malik covers. We can barely keep up, people! First, there was Dazed's summer issue. Photographed by Collier Schorr, the images portrayed Malik in a studded leather jacket and little else, again. His tats were on full display, again, while his expression was positively devil-may-care.
Just a week later, he was announced as the star of Paper magazine's aptly-named "Sexy" issue, and it made us do a serious double-take. The covers were strikingly similar — the embellished leather jacket strikes again — and it didn't help that both Paper and Dazed featured a five-letter title in bold block lettering. The images were the same brand of bad-boy hot, featuring Malik in various states of undress and blowing smoke into the camera.
Which brings us to our most recent edition, one in a special series for the September issue of Elle UK. Part of the magazine's redesign, the "Rise of the Rebel" cover has Malik in the company of Kristen Stewart, Hari Nef and Amandla Stenberg — but his portrait? It was the only one photographed in monochrome. What can we say? He knows what he likes and it works for him. But it's not like we're not complaining; it just makes the decision of which picture to hang in the office that much harder. 
Click through the slideshow below to see all of Malik's most recent editorials. We think you'll have a difficult time picking a favorite, too.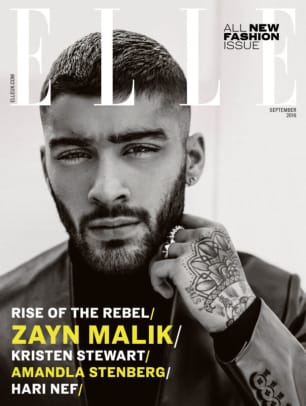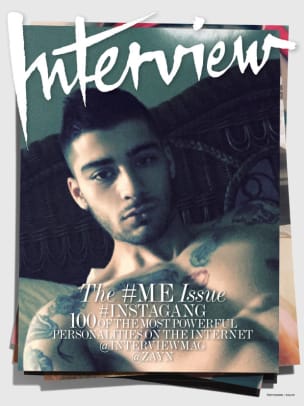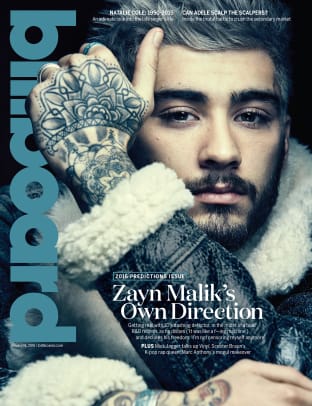 Homepage photo: Miller Mobley/Billboard
Never miss the latest fashion industry news. Sign up for the Fashionista daily newsletter.