This Minimalist Swimwear Line Was Made With Olympic-Trained Swimmers in Mind
Babes in Bathers debuts with a short documentary on the Columbia University women's swim team.
Newly graduated fashion students are usually encouraged to work for more established designers before breaking out on their own. But it's not unusual to have an itch to go solo after spending four years in design school constantly working on project after project. "When you leave college and work for someone, you kind of lose that," says designer Maayan Sherris. "You're working from 9 a.m. to 9 p.m. and then you go home, eat and go to sleep. You don't have time to be creative." When Sherris graduated from Parsons in 2014, she immediately started working at The Row, where she learned to set her aesthetic standards high and make domestic manufacturing a priority. Eventually, the desire to do her own thing started to set in.
In June, Sherris launched Babes in Bathers, a limited-edition swimwear line that's inspired by a single swimsuit from her senior thesis. The debut collection was refined, however, based on feedback from Olympic-trained swimmers. With her studio in the Upper West Side, Sherris decided to reach out to nearby Columbia University to shadow the women's swim team in the fall of last year. Though it took some time to convince the coach, Sherris and her filmmaker friends Mayan Toledano and Efrat Kashai followed three swimmers — including Christina Ray, who was training to qualify for the Olympic Trials that took place this summer. The result was a short documentary, titled "Women in Water," that showcases the team — wearing Babes in Bathers, of course — and helps shape the story and mission behind Sherris's debut collection.
Since this was the first time Sherris had worked solely with swimwear, the design process involved a constant shuffle of old and new samples being tested out by the Ivy League swim team. (Her close friends gave the pieces a try, too.) Sherris found fitting her swimwear to a more athletic build more intriguing, especially since most of her design experience involves a specific sample-sized body type. "It looked amazing on them and they all had different body types," says Sherris. "It's not about being a certain weight. It's all about being fast and strong. It's beautiful." Once the styles were finalized, it was up to the young designer to find a manufacturer in New York. The swimwear industry is nearly nonexistent in the city, according to Sherris, but she managed to find a factory in Brooklyn that she visited every week as they produced her designs. And the factory owner's experience in dancewear, along with recommendations for sewers, was an added bonus.
Despite being so visually simple, the line's attention to detail and functionality is evident. Made from a blend of spandex and nylon materials sourced from the Garment District, each piece is soft, smooth, supportive but comfortable and quick to dry. The three sets of bikinis and two one-piece suits come in calming shades of blue that match the ocean. (The white pieces have a pastel blue lining that adds the slightest hint of color as soon as they hit the water.) Ruffles accent the edges of most tops and bottoms, lending a stylishly feminine vibe, though they're meant as a nod to the ocean's waves. A few of the collection's bottoms and one-piece suits are hand printed by Sherris herself with a sea-inspired motif. At the swim athletes' requests, Sherris added snap closures to the straps of the one-piece suits, so they're easier to put on and take off, as well as drawstrings to the high-waisted bottoms to keep them from falling off when you jump in the water.
The collection ranges in price from $99 to $149 and is available online at Babes in Bathers' website and exclusively at Creatures of Comfort, a retailer that Sherris managed to nab after cold-pitching the founder Jade Lai. "I love Creatures of Comfort and I think aesthetically [the brand] fits," she says. "I sent Jade a package in the mail, she really liked it and gave me a chance." It's clear that Sherris has a diligent approach to her work, and she attributes it to growing up in a kibbutz, or commune, in Israel. "The whole system works better when you know exactly what's going on," she explains. "When you can communicate and I can go to my factory and talk to the women and see what they need help with."
Next year, Sherris plans to expand Babes in Bathers, possibly by working with scuba fabrics and turning to professional divers in Panama or even Australia for design input. She also continues to be prolific with her projects, similarly to the demands she met at Parson, so swimwear for men is also an option, as well as perhaps creating a ready-to-wear label. "I always want to come out with something fresh," says Sherris. "And I feel like fashion today can allow that."
Click through the gallery below to see the Babes in Bathers debut collection.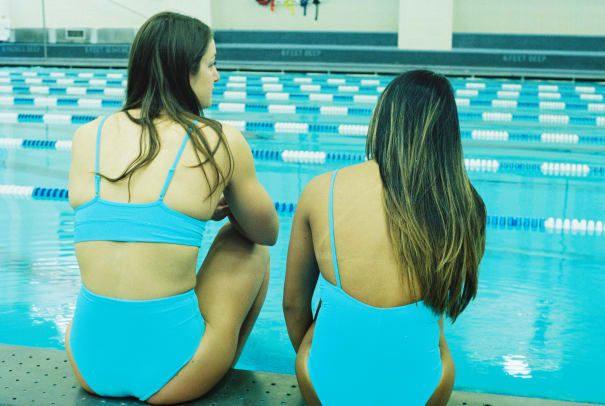 Want more Fashionista? Sign up for our daily newsletter and get us directly in your inbox.