Botkier's Fall Campaign Stars Chelsea Tyler, the Newest Celeb Offspring to Watch
The New York-based handbag label has a proven track record of casting up-and-comers before they make it big.
As fashion's ad campaigns roll out every season, there are a few casting trends that we've come to expect: a healthy dose of "Instagirls" like Gigi Hadid and Kendall Jenner; some big-name celebrities like Selena Gomez, Amanda Seyfried and Kim Kardashian; a handful of OG model muses including Karen Elson, Amber Valletta and Kate Moss; and finally, a new crop of up-and-comers who are on the brink of making it big. 
Whether it's a runway darling or a multi-hyphenate "It" girl, scoring a solo campaign for an established label can help a young model's career swiftly skyrocket, and New York-based handbag brand Botkier has a proven track record of taking those risks. For spring 2015, Botkier cast Bella Hadid in its ads — long before she boasted 5.7 million Instagram followers and starred in campaigns for Balmain, Givenchy, Marc Jacobs and Calvin Klein. The same can be said for Lottie Moss, the spring 2016 face of Botkier, who's since covered Vogue Paris and signed with top agency The Society in New York.
Now, Botkier New York is placing its bets on Chelsea Tyler, the 27-year-old daughter of Steven Tyler, who's a successful musician in her own right. (She and her husband Jon Foster perform as an electric soul duo called Kaneholler.) Tyler first signed to IMG in 2011, and sporadically appeared in campaigns in the following years, including Andrew Charles (alongside her dad), C'N'C Costume National, Siwy and Alice + Olivia. However, this is her first big step into the fashion spotlight, and if Hadid and Moss's trajectories following their Botkier campaigns are any indications, we'll be seeing a lot more of Tyler in the future.
Think PR's Vice President of Fashion Tracey Manner, who helps to oversee creative direction, casting and photo shoots for her clients, says that the Botkier customer is very interested in knowing "who's hot and what's next," so she chooses models for the campaigns by meeting with agencies and asking which new talents are "turning them on" at the moment. In addition, she looks for faces who have a story beyond just being a model — a personality that will pique customers' interest.
The brand's willingness to work with young, unestablished talent has proven to be an asset, as has staying true to the brand's ethos during the casting process. "We'd rather have someone a little more authentic for the brand than someone with a huge social following," Manner explains. "The social media conversation can be distracting for brands because there is so much pressure to get as much reach as you can, but you have to remember you're looking for someone who's true to your brand story."
See more from Tyler's fall campaign for Botkier in the gallery below.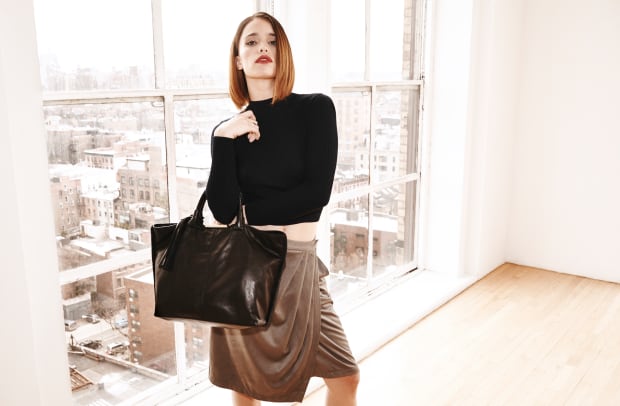 Sign up for our daily newsletter and get the latest industry news in your inbox every day.