Merch Is All We Write About, So We Made Our Own
Team Fashionista is joining the ranks of Kanye West, Justin Bieber, Drake and Beyoncé with its first-ever line of #merch.
Summer sixteen will go down in fashion history as the time when the world's biggest pop and hip-hop stars reinvigorated the long-standing tradition of concert merchandise in a big way. 
From Kanye West's much-hyped Pablo merch — which made its debut at Madison Square Garden during Yeezy Season 3 and launched pop-up shops in New York, Los Angeles and Paris — to Justin Bieber's heavy metal-inspired "Purpose Tour" merch designed in collaboration with Fear of God's Jerry Lorenzo, the most coveted pieces of clothing over the past few months haven't been from luxury fashion houses, but rather from musicians looking for another way to grow their global brands.
West and Bieber are just the beginning: Drake, Future and Guns N' Roses hosted clothing pop-ups here in New York over the past few weeks as well, and megastars like Beyoncé, Zayn, Rihanna and Selena Gomez each gave fans the chance to wear their support on their sleeves with cleverly designed collections of clothing and accessories to help promote their newest releases. 
This isn't the standard concert tee, folks: these are high-quality collector's items that don't come cheap. (For instance, a Vetements-inspired "Purpose Tour" sweatshirt at the VFiles pop-up retailed for $120.) Speaking of Vetements, the label's streetwise Champion logo hoodies cost nearly $1,000; not only do they consistently sell out, they are among the most popular pieces in recent street style photos.
Because #merch is all we seem to write about these days, we decided to make some of our own, just in time for New York Fashion Week. We created a small, tongue-in-cheek collection that brings together the best of pop culture with the most hot-button topics in both fashion and politics — from the "See Now, Buy Now" debate that's rocking the industry, to the upcoming election in November.
Browse the product offering (modeled by us!) in the gallery below, and shop the full collection now at fashionistamerch.com — you'll be one step closer to popping up in a fashion week street style gallery among the dozens of kids in Pablo jackets. We promise.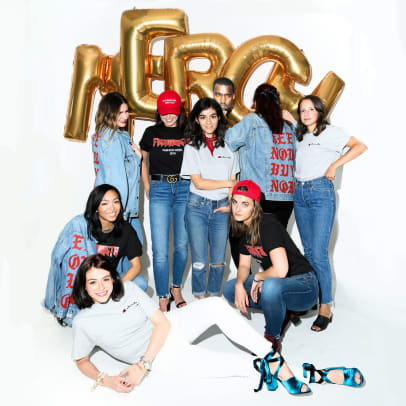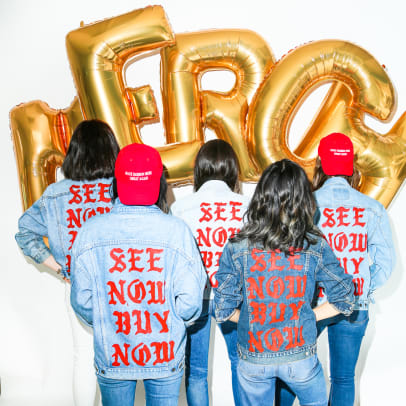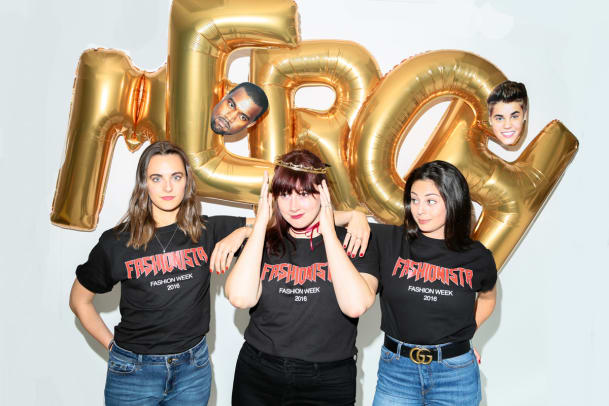 Want the latest fashion industry news first? Sign up for our daily newsletter.
All lookbook images by Nina Frazier Hansen.
Merch logo designs by Jon Klein.