Adaptive Clothing Line IZ Collection Shows How Inclusive Fashion Can Be
Its latest campaign features models Anita Kaiser, Grace Mahary and Alana Zimmer.
With over 30 years of experience in the industry, Canadian designer Izzy Camilleri has spent nearly half of it dedicated to her line of stylish, adaptive clothing. 
Through her first, mainstream, high-end clothing line, she dressed celebrities like Angelina Jolie and David Bowie, and even designed the red-and-black fox fur coat worn by Miranda Priestly in "The Devil Wears Prada." Her first adaptive clothing client was Barbara Turnbull, a journalist from a major newspaper in Toronto who needed a shearling cape that fit with her wheelchair. "She was lovely and explained what the cape needed to be," remembers Camilleri. (Turnbull passed away in 2015.) "She was also patient with me because I had a lot of questions."
The shearling cape was a hit, so much so that she used the design's pattern to make one in cashmere as well as denim. Soon after, Camilleri was designing more pieces and gaining more clients along the way. "It was constantly a learning process," she says. Before launching IZ Collection in 2009, she spent five years learning how to apply her fashion know-how towards a seated customer's wardrobe. "I really needed to understand the demographic because if I didn't, I could easily hurt someone." 
The line is sold online direct to consumer and attracts shoppers from around the world. With every purchase, IZ Collection contributes 10 percent towards organizations that provide more mobile access and aid — something as simple as a ramp, for example — within communities. Camilleri says retailers and department stories were hesitant to take on the line due to not having the right staff on the floor to service seated clientele. "But the good thing is that we attract a global audience. There's no way we would have the reach if we weren't online," she says. IZ Collection has been sold to 15 countries outside of North America, as well as every U.S. state.
Since the beginning of IZ Collection, Camilleri has always made sure that her pieces were relevant when it came to current trends and favorable styles. Her fall collection, a portion of which is now available, is IZ Collection's most fashion-forward yet: A bomber jacket features zippers along the inside of the sleeves for easy accessibility. A limited edition leather biker jacket is slightly roomier in the back of the shoulders for manual wheelchair users. Empire waist blouses come with an optional pussy bow for a Gucci-fied look.
To showcase the current collection, Camilleri also took a fashion campaign approach by hiring wheelchair model Anita Kaiser to pose alongside Canadian models Grace Mahary and Alana Zimmer, both of whom have wheelchair users in their families. The imagery for fall showcases all three models dressed in the same garments, proving just how inclusive IZ Collection is. 
Camilleri came up with the shoot's concept when she noticed how beautifully a dress from her line looked on someone who was standing. "I thought it would be cool to show these clothes on seated and standing models. It's also about inclusion and how great these clothes look on everyone," she says. "Some people think of adaptive clothing as compromise — this is not that. It's the opposite."
Click through the gallery below to view IZ Collection's current campaign and a few fall 2016 select pieces.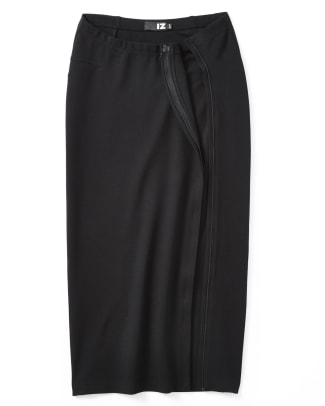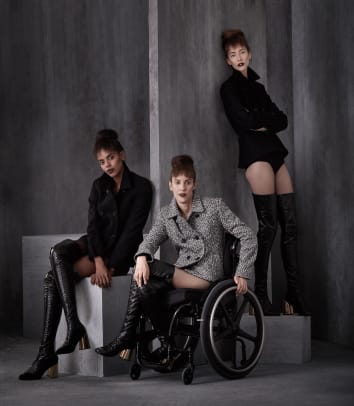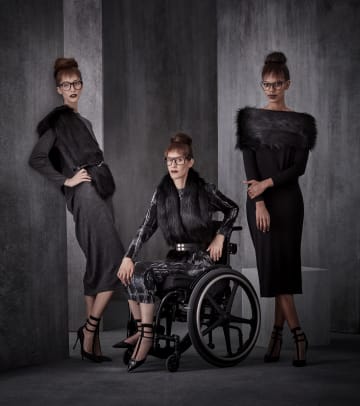 Want more Fashionista? Sign up for our daily newsletter and get us directly in your inbox.