Phillip Lim Sprinkles Some Western Romance on a Sensual Spring Collection
Models walked a runway covered in flower buds, petals and sand.
Having recently seen Robert Altman's delightful — and fashionable — 1975 film "Nashville," more than a few visual ideas came to mind when I received a release about the spring 2017 3.1 Phillip Lim collection shortly before the show began. It said that the season was inspired by "the soul of late '50s Nashville," and is entitled "Midnight at the Victorian Rodeo." My mind jumped to more conclusions when I saw the inside of the venue: the seating was arranged in a large circle around a space not only filled with Skylight Clarkson North's thick, industrial pillars, but also strewn with flower buds, petals and sand. It was as if a very chic and restrained parade had recently concluded.
"Somehow playful austerity seems to be a new sensuality," Lim says in the show notes — though playful austerity has always been a hallmark of his collections. Without the disclaimer and the Patsy Cline and country rock guitar soundtrack, I'm not sure I would have noticed that Lim used elements of country music's golden era to put a twist on his current favorite silhouettes and shapes, including bomber jackets, A-line dresses and peplum skirts. But the influence was all extremely subtle. It was found in details like contrasting piping on soft pink satin jackets and shorts and metal grommet mules; single embroidered roses (that could have been plucked from a Nudie suit); and prints including a monochromatic floral that looked like paisley at first and a glamorous dark-green snakeskin. Repurposed-looking denim used for asymmetrical dresses and skirts also had a Western feel. 
The sensuality Lim mentioned in the notes came to the forefront in bralettes layered under jackets, vest and tops. But it was balanced by more prim, Victorian frilly collars and long sleeves on all matter of delicate, knee-length dresses. It was balanced in turn by the really great shoes: studded platform sandals, mules and fierce pointed-toe snakeskin ankle boots. 
The vertically striped black, yellow or white looks towards the end of the show were my favorite, however, and not just because they defy any theme. Each featured a cherry-on-top element — like ruffles along the outside of pant legs, oversize sleeves or two sets of stripes — while still remaining super wearable. They were perfect for the kind of fast-moving modern woman who's seen more than a few rodeos in her day.
See the spring 2017 3.1 Phillip Lim collection in the gallery below.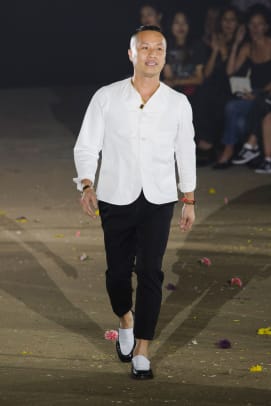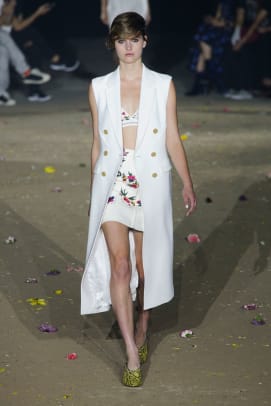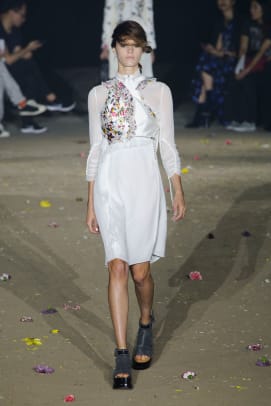 Stay current on the latest trends, news and people shaping the fashion industry. Sign up for our daily newsletter.