Alexander Wang Convinced 18 Models to Chop Off Their Hair This Season
This is how Alexander Wang and Guido Palau do beachy waves.
Alexander Wang and Guido Palau, hairstylist and creative director at Redken, are a formidable team. Together, they're known for often inspiring (convincing?) models to make major hair changes. And in the past, the shaggy crops models have gotten for Wang shows have been integral to their breakout seasons. (See: Peyton Knight, Charlee Fraser and Katie Moore.) For Wang's surfer-inspired spring 2017 show, Palau's makeover impulse was in overdrive: By his own estimation, he transformed 18 girls by giving them either short shags, bleach-blonde color or a combination of both. "It's such a fun thing to do," said Palau of the makeovers in an interview backstage. "It's a nice way to present a girl [who's] new, and people get excited with all of these new faces coming out with this new look." Even he seems a bit in awe of Wang's influence to inspire such changes: "I'm always amazed, actually, how Alex has got the power," he says. 
The grungy beach vibes were everywhere backstage (many of the models were wearing flip-flops and airbrushed T-shirts, like the kind you'd buy on a boardwalk). And while the hair was beachy, Victoria's Secret-style beach waves, these were not. "We looked at pictures of surfers, we looked at Californian boys, skaters.... We looked at girls that live on the beach with their boyfriends, and their hair becomes sort of tangly from the salt," said Palau. He used a combination of two Redken products — Fashion Waves 07 and Rough Paste 12 — to create that ropy, gritty, almost mangled effect. "It's more about the attitude of the girl and just enhancing that with the texture," he said.
Makeup artist Diane Kendal's take on the beach theme was simple: Bare eyes, bleached brows (for just the models who had bleached their hair), muted-down lips and blush patted atop the cheekbones to mimic a slight hint of sunburn. "The effect is just so [it looks like] they've been outside and just gotten sunburned a little bit, that was the idea behind it," said Kendal, who relied on two shades of Nars' The Multiple (Altai, a matte brown, and Portofino, a pinkish-red) for the look. "It's amazing how the placement of [the blush] makes the overall face look quite sun-kissed."
Click through the gallery below for a behind-the-scenes look at the show.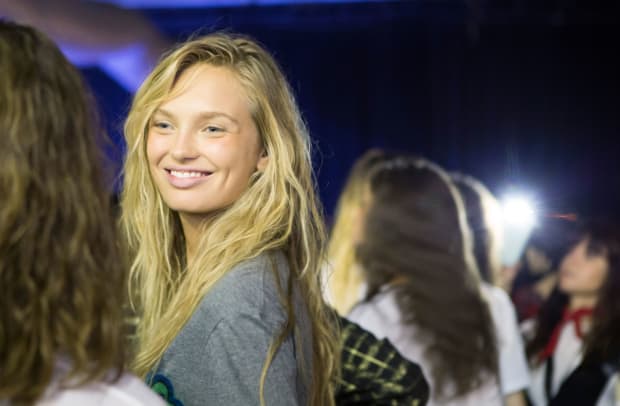 Please note: Occasionally, we use affiliate links on our site. This in no way affects our editorial decision-making.
Sign up for our daily newsletter and get the latest industry news in your inbox every day.