The Altuzarra Spring Collection Is Guaranteed to Make You Smile
Cherries, candy stripes and the designer's sweet, signature gingham — what's not to love?
Each time I've interviewed or interacted with Joseph Altuzarra, he's struck me as a pretty happy guy — partly because he always seems to have a huge grin on his face, and also on account of his graciousness and humility — though when it comes to the woman he designs for each season, she tends to come off a little more serious. Of course, this isn't a bad thing (who isn't inspired by strong, confident ladies?); but the sexy shirting, high-waisted pencil skirts with up-to-there slits, sharp tailoring and luxurious outerwear for which Altuzarra has become known look like they mean business. However, for spring 2017, the designer decided it was time for his woman to have a little fun. From the vibrant color palette to the whimsical, ruffled dresses to the embroidered cherries and pineapples, the resulting collection was nothing short of delightful.
Inspired by the "rebellious and youthful spirit" of David Lynch's 1990 film "Wild at Heart," an oddball comedic thriller filled with '80s-tastic fashion and beauty, Altuzarra opted for a youthful, flirty vibe that will surely appeal to his fans of all ages. The opening looks — light silk dresses and high-waisted skirts in sweet cherry and blueberry prints — set the tone for the pieces that followed: striped knit separates in bright, contrasting colors; bras fashioned from flouncy silk; tailored blazers, skirts and shirtdresses in sweet gingham; organza tops, skirts and dresses with highly textural floral embroideries and tiered finale dresses featuring sparkly fruit appliqués. A python print that appeared throughout was a nod to Nicolas Cage's character in "Wild at Heart," but the typically luxe material got a cheeky update with contrasting lace trim and embroidered cherries. 
Throughout the show, which featured a soundtrack of both speed metal and Elvis Presley, the aforementioned colors and prints were mixed seamlessly, with most looks nipped in at the waist — either with knotted or whip-stitched leather belts or printed silk ties. To further increase the fun factor, models wore bold hoop earrings, fruit-printed tights, heels and sandals adorned with sparkling watermelons and bananas and an expanded offering of handbags with tassel keychains in both metallic and color-blocked leathers. Who said a woman can't look powerful and playful at the same time?
Click through the gallery below to see the full Altuzarra spring 2017 collection, which we're pretty much guaranteeing will make you smile.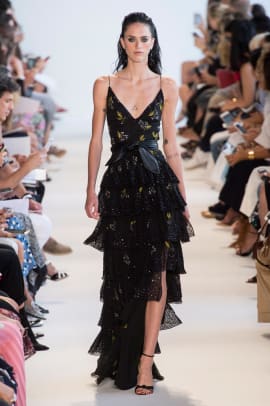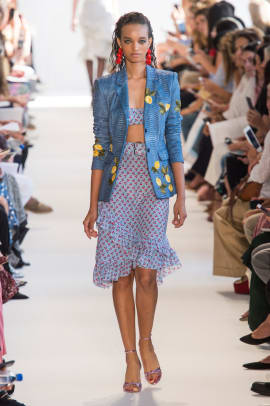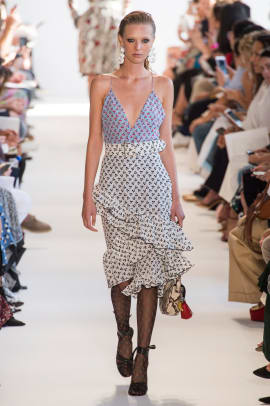 Never miss the latest fashion industry news. Sign up for the Fashionista daily newsletter.