Anna Wintour and Chelsea Clinton's Fashion Fundraiser Was Filled With Drums, Dancing and A-List Designers
The industry turned out to raise money for Hillary Clinton's campaign through a high-energy show and the sale of specially designed T-shirts.
Who else but Anna Wintour could wrangle some of the New York fashion industry's biggest names the day before fashion week (unofficially) kicks off for a group runway show? The cause certainly helps — supporting the campaign of Democratic presidential nominee, Hillary Clinton — since Tanya Taylor, Tory Burch, Marc Jacobs and many others had already designed fundraising T-shirts for the candidate's web store. But Tuesday night's runway show at Spring Studios wasn't just a showcase for the merch; it combined the shirts with pieces from the designers' main collections, many with patriotic twists. And against an upbeat mashup soundtrack, the show featured a delightful casting of models, with runway regulars such as Lineisy Montero and Luka Sabbat, New York City Ballet's Robert Fairchild, Tiler Peck and Megan Fairchild and "normal" parents with their children, including Carmelo Anthony, LaLa Vazquez and son Kiyan. 
Before the event began, the front row filled with not only Democratic donors who paid thousands of dollars for the view, but many familiar fashion faces — Derek Blasberg, Eva Chen, Lauren Santo Domingo, Hamish Bowles, Amy Fine Collins, and Elettra Wiedemann were all in attendance. Huma Abedin, event co-host and Vice Chair of the campaign, shyly emerged from backstage in a bright red skirt and Jason Wu T-shirt before sitting next to Michael Kors and Harvey Weinstein. 
Then Wintour kicked off the event, thanking and praising Abedin — "one of the more tireless workers I know," a great mother and "impossibly chic" — before introducing Chelsea Clinton, "a testament to the social power of love and work alike." Wintour said: "For me the most unforgettable moment of a very memorable Democratic convention has to be the simple image of a mother backstage watching her daughter deliver a moving introduction." Wintour couldn't resist a dig at Donald Trump, of course, reminding the audience that the collection T-shirts were made in America by union workers unlike Trump's "hideous ties." 
Chelsea, wearing Diane von Furstenberg's T-shirt, spoke next and thanked Wintour for "conceiving of this event tonight and for your tireless support for my mother's campaign." She highlighted her mother's platform supporting women's rights, gay rights and children's health, as well as fighting climate change and encouraged everyone to vote — and wear their Clinton merch proudly. 
On to the show! Before anyone hit the runway, drummers and percussionists of the Marching Cobras, part of a nonprofit performing arts company, kicked things off as step dancers (wearing Dao-Yi Chao and Maxwell Osborne's "Make History" T-shirts) did an impressive performance in the middle of the room. The soundtrack for the entire event was fantastic, mixing classical music and more typical runway beats with Kendrick Lamar, Nas and Rihanna. 
Each of the 12 participating designers got their own distinct segment throughout the show: runway models in Jacobs, '80s style; back-to-school teens wearing Taylor and Brett Heyman (of Edie Parker); skateboarding boys in Rag & Bone; the Internet famous "Hiplet" ballerinas wearing DVF; Mia Moretti, Adrienne Canterna and Margot in layers of Prabal Gurung holding a giant bouquet of balloons; models in Altuzarra, each with their own dog companion; the aforementioned New York City Ballet dancers performing in Wu; modern families in Burch, Eva Fehren, Pamela Love and Monique Péan shirts; and a dramatic finish by models wearing Georgina Chapman T-shirts layered under voluminous Marchesa gowns. At the finale, the designers (Jacobs might have been the only one not present) joined their models on a last parade up the aisles. 
But it wasn't over yet! Singer Demi Lovato appeared in a sharp grey suit, showcasing her impressive voice by singing "Body Say" and "Confident." Performing at a fashion show is usually tough — the crowd is rarely giving the musician much energy in return — but Lovato put gave it her all and seemed genuinely grateful to participate. Perhaps the most adorable moment came next: In an unscripted moment, Chelsea ran up onstage as Lovato began to leave to confess that she's a big fan, not only of Lovato's music, but of her mental health advocacy, too.
As showgoers began making their way towards the pop-up shop, non-fashion industry attendees lingered about to get a closer look at or even chat with Abedin and Wintour, the latter of whom declined no request for a selfie. I heard a woman stop Bowles to introduce her young son, who, apparently, was a fan. Someone asked Kors if he was going to another event the next day and he responded: "This is my only moment out." Much like the other designers, he has his own show for which to prepare. 
See more images from the "Made for History" fashion show in the gallery below.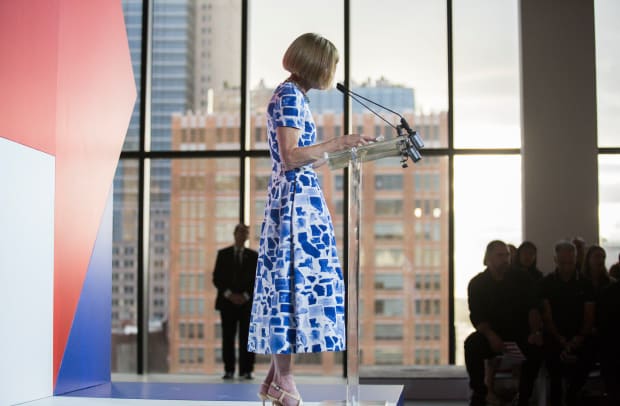 Stay current on the latest trends, news and people shaping the fashion industry. Sign up for our daily newsletter.