Welcome to Balmain's Flowy, Sexy and Shiny Spring Jungle
"My Balmain army has shed its armor."
Whether you're a Balmain fan or not, you have to give Olivier Rousteing credit for consistency. "Almost six years on, with more than enough battles and learning curves behind us, my team and I find ourselves settling into our comfort zone," he wrote in the show notes. He's right: the brand's aesthetic is strong and clear, even if he decides to take his next collection to a disco jungle party — as he did for spring 2017, which debuted on Thursday as part of Paris Fashion Week. Here, the waists are always cinched, the nipples are always free and the contour palettes never run dry. And even as he played with sparkly chain-mail tunics, snakeskin everything and sheer-paneled and kimono-inspired dresses, the styles felt familiar. Has Kim Kardashian already worn this? Is she wearing it now? Maybe, probably. With a total of 80 different looks, there was a lot to unpack from Balmain's latest body-hugging collection. 
Let's take it chapter by chapter. Models emerged from a thicket of leaves in a series of solid and snakeskin dresses and separates in burnt orange and olive green, featuring cutouts, bandages, flowing sheer layers or a combination of all three, and all anchored by a range of wide waist belts. Thick, circular silver necklaces with cascading strands were layered under several deep V-neck tops. Then, Rousteing expanded the snakeskin color palette to bright green, red and blue, and introduced breast-hugging circular panels framed by sheer ones. The pants and skirts remained floor-skimming, voluminous and, in several cases, visibly difficult to walk in, but legs got their moment to shine through thigh-high slits. A series of all black or all red looks followed — some quite simple, some strangely multi-layered. 
Bold, thick stripes are a Balmain signature, and they appeared in the spring collection in satin, suede and a chain-mail knit in both solid, matte tones and sparkly, thin stripes, and in the form of tunics, pants and jumpsuits. The dense stripes and diamond-patterns of the last 20 looks were the climactic highlight of the collection — and peak Balmain — as they framed the sexy silhouettes, panels and cutouts in such a loud, unapologetic way. "My Balmain army has shed its armor," wrote Rousteing, who saw this as as softer, more vulnerable collection inspired by the Balmain women who "never shy away from showing their softer side, sure in the knowledge that there's no longer any need to shout." While the body-conscious cuts are still core to collection, only several looks hugged the waist and did not feature heavy textures and embellishments. 
By the time Rousteing sent the last five ultra-shiny metallic dresses down the runway, it was more than clear that the Kardashians and women who aspire to be them are fully stocked with red-carpet options to get through the next few months. But the designer revealed he is thinking bigger, perhaps bolstered by the recent purchase of the brand by Valentino's parent company, Mayhoola, for about $548 million in June. "Today, we believe that we clearly show that in addition to pleasing our strong core of loyal customers, we can confidently open up the house to a wider audience." 
See Balmain's spring 2017 collection in the gallery below.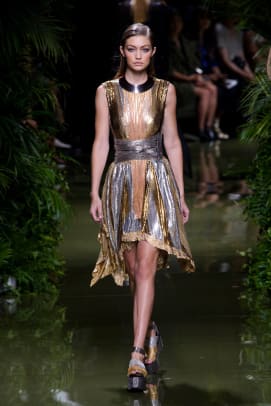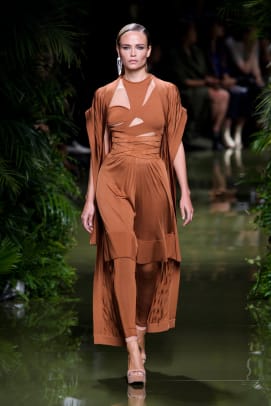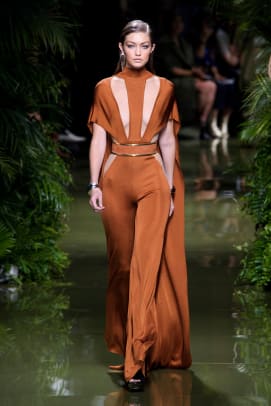 Want the latest fashion industry news first? Sign up for our daily newsletter.