Bill Murray Is Literally Designing Golf Clothes Now
It's a dream come true.
Bill Murray — a man who could, one day, steal your French fries and say, "Nobody's going to believe you" — has long been a fashion icon. Just ask Taylor Swift, who inexplicably wore a $118 Reformation sweatshirt with his name on it once. But on this day, Sept. 21 in the Year of Our Lord 2016, Murray has joined the ranks of Coco Chanel, Karl Lagerfeld and Jessica Simpson and is now the proud figurehead of a fashion brand.
On Wednesday, I received a press release notifying me that the "Murray brothers, including actor Bill Murray" are launching a line of golf apparel in partnership with entertainment website The Chive. Called the William Murray Golf line, this "new lifestyle and apparel brand" will "break away from traditional golf apparel by bringing a new look and feel to the industry with a little irreverence and a lot of style."
Murray's love of golf is well-documented both on Getty Images and in real life, having played a caddie in the cinematic tour de force "Caddyshack" and hosting an annual charity golf tournament, Murray Bros. Caddyshack Charity Golf Tournament, in St. Augustine, Fla. While Murray himself sadly did not offer a formal statement, the release states that the brothers — including actors John, Joel and Brian — "worked closely on all aspects of the line to ensure the brand's authenticity, from creative design to color patterns to production and more."
The entire line launches online on Thursday, Oct. 20. I, for one, am eager to get my hands on this polo tee, which features hundreds of tiny cocktails — some of which have tipped over — as well as a golf club-wielding man embroidered on the chest. I've never been golfing, but I hear people sometimes drink while they play, so this shirt is both fun and appropriate. Plus, the collar makes it just dressy enough to wear to even the snootiest of country clubs.
Next up: William Murray Golf's New York Fashion Week debut. If I say it, maybe it'll come true.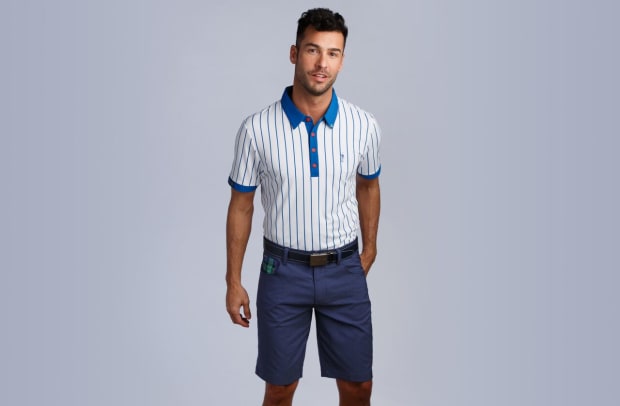 Update, 2:14 p.m.: Chantal has informed me that Wednesday is also Murray's birthday. Happy birthday, Bill Murray, from your friends at Fashionista.
Never miss the latest fashion industry news. Sign up for the Fashionista daily newsletter.