Coach's Rockabilly Biker Gang Is the Only Squad I Want to Be a Part of
Designer Stuart Vevers presented an exciting, Elvis-heavy take on Southwestern Americana.
The best fashion shows are aspirational, sure, but they're also transportive. When the set, soundtrack, styling and, of course, the clothing all blend together to provide an immersive escape, however temporary it may be, it's magical. For the last six seasons, Coach has constructed elaborate stages for its own runway shows, and has done so without it feeling gimmicky — a true feat when so many brands now promote excess for the sake of Instagram. 
Coach's spring 2017 show, presented before a large audience on Tuesday afternoon, may have been its most involved yet. This was made immediately clear by its set, which featured six rusted, '50s-era sedans stacked on top of each other, as well as a floor that seemed to imitate the dusty gravel you might find in an abandoned back lot. This, plus the inky, rural sky projected along the venue's walls, nailed down Creative Director Stuart Vevers's vision for the season before the clothes even hit the runway. 
For spring, Vevers explored "the sense of belonging that comes from being part of a movement," according to the show notes, and "the symbolism of rebels, beatniks and an Elvis fan club." Since he was first tasked with reinventing Coach three years ago, Vevers has been steadily tuning his picture of Americana. With tough prairie dresses and hand-worked varsity jackets, his last several collections have been an homage to the sort of disaffected teenager you might recognize from a John Hughes movie.
But Vevers went tougher this season, leaning heavily into that rockabilly spirit in a way that could've bordered on costume, if executed differently. The show opened with a series of moto jackets and vests, all studded and trimmed with various embellishments like horseshoes, grommets and leather pins, including ones that read "Elvis" and "Route 41." Prairie-style baby-doll dresses remained a key component — though this time they came complete with sheer skirts and a healthy serving of black lace and fringe. The accessories felt just as rebellious, with studded platform creepers, oversize Western belt buckles, printed neckerchiefs and padlocked bracelets accompanying nearly every look. Then, there were the bags, fringed and loaded with hardware, which I found myself overlooking in favor of the clothes. 
Vevers has produced very strong collections for Coach thus far, but none has felt quite as captivating as this. That Coach was able to sell us a line so thematic is a testament to Vevers's commercial prowess. Those Elvis-printed T-shirts are going to be everywhere come spring — including on me, if I can get my hands on one.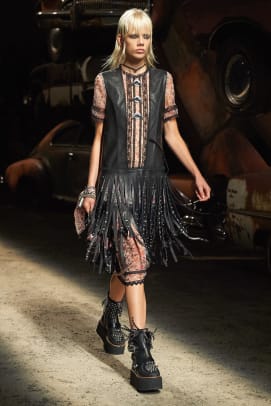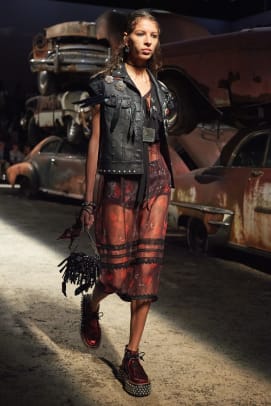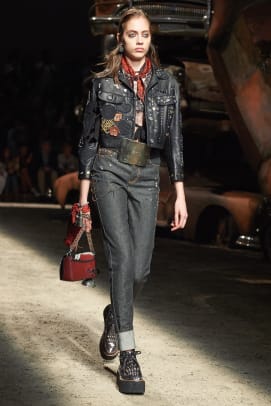 Never miss the latest fashion industry news. Sign up for the Fashionista daily newsletter.