Jonathan Saunders Hits the Reset Button on Diane von Furstenberg for Spring
The Scottish designer struck the perfect balance between classic DVF and modern sensibility for his first collection as chief creative officer.
In stark opposition to the many spectacle-level shows dominating the fashion week schedule, Jonathan Saunders presented his first full collection as Diane von Furstenberg's chief creative officer to small groups of journalists in a bright, airy space on Saturday. It was a departure for the brand itself, typically known for its own Insta-bait fashion shows. The message was clear: It's time to hit the reset button on DVF.
Saunders stepped away from his namesake label at the end of 2015, spurring on speculation that the Glasgow-born designer could take the reins at Dior. Instead, it was announced in May that as the first-ever chief creative officer at DVF, he would be taking over from Diane von Furstenberg herself. Certainly, being tasked to modernize such a legacy brand — especially with the designer still living — is no small task, but Saunders seemed unfazed. "It's just our job," he said. "You think about it from a philosophical point of view, what words you associate with the brand. I think 'provocative' is an interesting word that maybe hasn't been at the forefront of how they've presented the brand recently."
Saunders's touch was evident; asymmetrical shapes, pattern play and sharp tailoring brought a new dimension to the line, and the styling felt both editorial and playful. But fans of the brand needn't worry: There are still plenty of the DVF signatures — beautiful prints, '70s detailing and of course, the wrap dress — in the collection to satisfy loyalists. "It's a great brand to work with," he said. "All of the values that Diane started the brand with — effortlessness, easy, femininity — all of those values are so important to hold onto, and then print and color, which I love and has always been a part of what I do."
What Saunders did was breathe a new, more modern style sensibility into those classics. All of the fabrics and prints were custom made in-house; the print mixing was truly phenomenal, and the sparkle, whether on cropped tees or form-fitting dresses, felt sophisticated. There's something for every woman in the collection, too, thanks to the wide range of styles and lengths, from rompers to midi-skirts. Fine, feather-light printed leathers and poppy suedes are big standouts. Saunders also got his hands on the accessories, which, historically, have never been a true focus for DVF. "I think it's important that all the elements of the line work in harmony with each other, and that seems a bit obvious, but it's something that I think we needed to work on when I first started," Saunders said. 
The brand is keeping Saunders's debut under tight wraps, releasing only 30 looks from the expansive collection until the line hits stores next year. But judging by this small preview, it's a strong start to what could be a lasting partnership. "What's wonderful about the company is that Paolo [Riva], the new CEO, came from Valentino and Tory Burch, so he's seen a lot of different aspects of the business, and he's a merchant — he really understands the product, he loves clothes and he's incredibly supportive," Saunders said. "So together, we've been able to take a brand which is known and loved and respected because of its founder and the reason she started it, and take it to the next decade."
See DVF's full spring 2017 collection in the gallery below.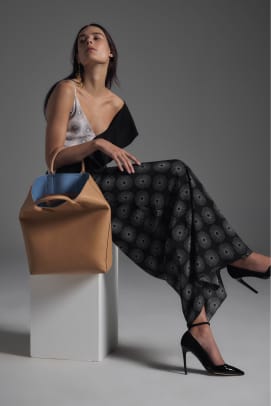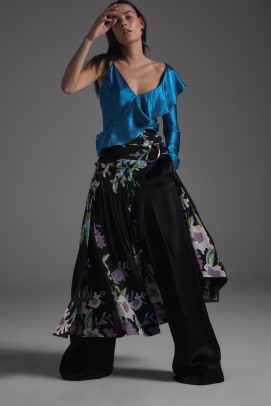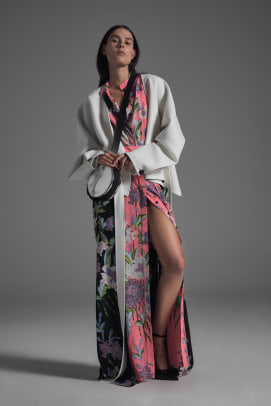 Want the latest fashion industry news first? Sign up for our daily newsletter.