Pat McGrath's Glitter Lips Stole the Show at DKNY
Pat McGrath. That is all.
If you haven't heard and/or seen on Instagram and/or already purchased and fangirled over the Pat McGrath Labs Lust 004 Lipstick Kit, get ready to do so now. Because if Naomi Campbell at the VMAs wasn't enough to make you hit "Add to Cart," then the runway look at DKNY certainly will be.
Ever since their runway debut for the label almost exactly a year ago this week, Maxwell Osborne and Dao-Yi Chow's show for DKNY has been a hotly anticipated one from the NYFW calendar. So the designers enlisted arguably the most revered makeup artist in the world, Pat McGrath, to dream up the look at their spring 2017 show at the High Line.
Using her already-sold out glitter lip kit, McGrath created a series of looks for the DKNY "urban glamour girl." Referring to it backstage as a "crescendo of glitter," McGrath gave the first models in the lineup a subtle mouth, accentuated with tiny flecks of corresponding red glitter from the Bloodwine kit. As the show continued, so did the intensity of the models' lips. By the end of the show, each one had full-on blinding sparkle, which McGrath created by layering the darker lipstick from her Bloodwine kit (a moody, matte burgundy) underneath gold glitter.
To contrast the showstopping lip look, McGrath kept models' eyes nearly bare (just a hint of light brown eye shadow and a touch of brown mascara at the roots for light definition). The same went for skin: McGrath made sure each model's complexion was flawless (as is her signature) with foundation and concealer where needed — plus a touch of her own Skin Fetish highlighter for good measure. (This is, after all, Pat McGrath we're talking about.) "I think it's quite a modern way to wear a lip, with that bare, bare face," said the makeup artist backstage. "It's all about your lip being your jewelry, in a way. She's just drop-kicking a hard-core fierce lip, right, darlings?" (Yes, those were her actual words. Goddess.) Here's to "drop-kicking" your makeup every day, whether on the runway or IRL.
Click through the gallery below for a behind-the-scenes look at the show.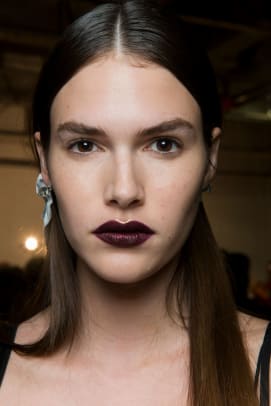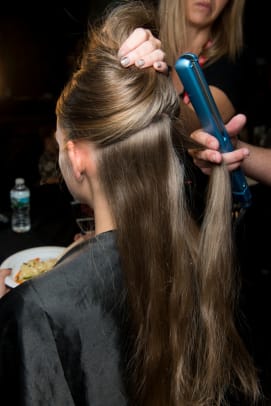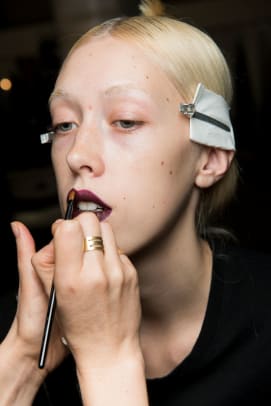 Never miss the latest fashion industry news. Sign up for the Fashionista daily newsletter.