Dolce & Gabbana Changes the Conversation for Spring 2017
The Italian brand made a big — if initially confusing — statement in terms of what clothes we should see on the runway, and who should be seeing them from the front row.
The invitation to Dolce & Gabbana's spring 2017 runway show read "Tropico Italiano," but the event itself on Sunday afternoon was not quite the fun-loving-Italian-on-vacation-in-tropical-printed-swimsuits-and-bustier-dresses that we expected. Rather, it clarified the brand's position on what purpose it thinks its runway shows should serve.
Leading up to the show, the brand began teasing images on Instagram of its cadre of millennials who would be sitting front row: Sofia Richie, Brandon Dallas, Luka Sabbat, Brandon Dallas, Dylan Jagger Lee, Sarah Snyder and more (read about all 21 of them here) — the brand even shed a spotlight on them before the show began so that those of us sitting across from them (including many a U.S. editor with a strong social media following) could snap a few photos in the otherwise dark space (or perhaps so they could snap selfies?). Dolce & Gabbana had thought of everything — even guest hydration. As we walked into the venue, attractive men were manning a coconut stand serving fresh coconuts with straws. 
As the lights dimmed again and the music changed from the entirety of Justin Bieber's "Purpose" to upbeat Italian Tarantella music, we expected the standard procession of models in colorful outfits. But instead, a group of Neapolitan dancers in street clothes ran out from the audience onto the runway and started breakdancing. The phones came out, the Snapchats and Instagram stories were shared and eventually, the dancers were replaced by models — Hailey Baldwin included. (Surprisingly, there were no Hadids).
Despite the fruit, the collection itself just didn't seem all that tropical (and the breakdancers didn't quite fit into that theme either, as far as we could tell): The show notes offered something of an explanation: The Tropico Italiano isn't a real thing that exists, but rather "an imaginary line that marks the territory which stretches from Naples to Sicily," meaning locals might get some of the symbols Dolce & Gabbana used to reference that region, but to us, the marching band jackets, folkloric crowns, LED shoes and pizza, pasta, cocktail and ice cream motifs felt a little random — though they did make for a cheerful visual feast as they came down the runway, and what more do you want from a Dolce & Gabbana show?
As designers the world over rethink when, where and how they present their collections, Dolce & Gabbana said they wanted to adopt "a more personal approach to the design process which is not influenced by seasonal rules or codes," per the show notes. "There are no longer rules in fashion, but what matters is to remain true to yourself." That ethos seemed to be reflected in the haphazard styling seen with many looks: heavily embroidered marching band jackets paired with feminine skirts, an ankle-length jacket covered in sequins paired with jeans, an athletic jersey and shorts worn with heels; and speaking of footwear, many models wore embroidered "hotel" slippers. It was as if whomever styled this show had the attention span of, well, a millennial. Also fitting this theme were the many rule breakers in the front row: young people who (thanks to privilege, in many of their cases), are carving their own paths in life, whether by creating cool content, modeling, making music or all of the above.
As the entire cast of models stormed the runway at the end of the show — Dolce & Gabbana's signature finale format — they wore bedazzled, low-brow "D&G" (remember that line?) T-shirts made to look like counterfeit tees you might find in a tourist-trap street market. It was basically Dolce & Gabbana merch, and paired with some adorable embellished brocade mini skirts, the whole look had major commercial appeal — though we're still on the fence about the flip flops many models had on their feet.
But the biggest statement of all was that front row — a statement that recalled the brand's spring 2010 show, where the designers shook the industry by stationing OG fashion bloggers including Bryanboy, Tommy Ton, Garance Doré and Scott Schuman in the front row, many of them equipped with laptops — laptops! Similarly, Sunday's stunt cemented these young, iPhone-wielding Insta-celebs and celebrity offspring as the new influential content creators. Will those independent bloggers suffer as a result? Are editors,' buyers' and journalists' seats going to get progressively worse? We'll have to wait and see.
See the entire Dolce & Gabbana spring 2017 collection in the gallery below.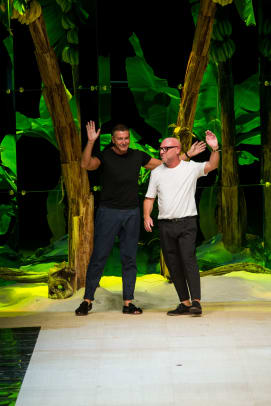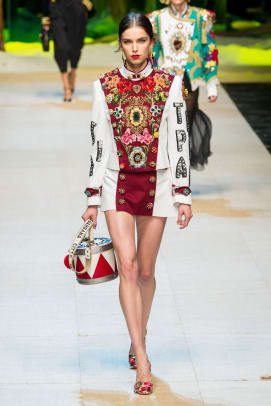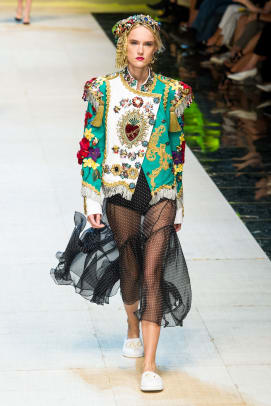 Never miss the latest fashion industry news. Sign up for the Fashionista daily newsletter.