Fendi Goes Futuristic for Spring 2017
These overgrown dolls are ready to party.
Fendi's runway shows, aside from the occasional pre-collection event in an exotic locale like the Great Wall of China or Rome's Trevi Fountain, are typically free from theatrics. The set for spring 2017 was as straightforward as it gets: The words "Fendi Roma" in white wrapped the entire room from floor to ceiling, offering little indication of what Karl Lagerfeld and Sylvia Venturini Fendi were thinking about for the collection. But for the most part, their vision was made very clear by the clothing and super cool beauty look. Set to a mixture of aggressive dance beats and softer, lullaby-like melodies, models of the moment (opener Bella Hadid and sister Gigi, Lexi Boling, Molly Bair, Taylor Hill, Binx Walton and more) stomped down the runway looking like overgrown dolls that had been dressed up in futuristic, decorative outfits with sweet embellishments, some athletic touches and busy accessories by a playful-feeling Karl Lagerfeld.
In the show notes, he describes his girl as a "modern rococo muse." And he kind of made us want to be that girl, if not a slightly a toned down version. Usually the accessories are the highlight of Fendi shows — and the brand did debut a new "Kan I" stud lock bag covered in candy-colored studs, rosette embroidery and floral ribbons — but we also found ourselves lusting after a lot of the clothes, like the apron dresses, cute little cropped sweaters and striped jackets.
See the full collection below.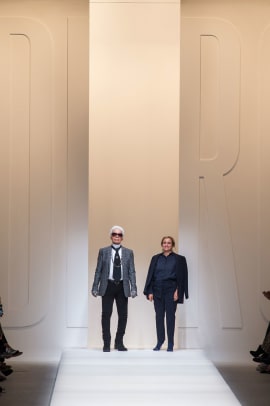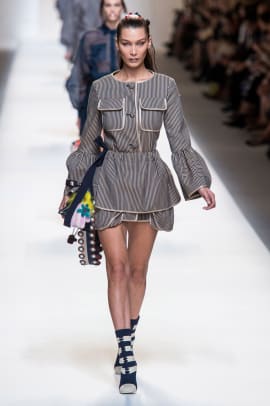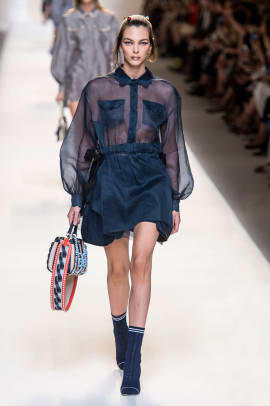 Want more Fashionista? Sign up for our daily newsletter and get us directly in your inbox.