Nearly a Decade After Leaving Kate Spade, Kate Valentine Returns to New York Fashion Week
With Frances Valentine, it's all about what the designer wants — and it works.
With the current state of upheaval in the New York fashion scene, a designer can't be blamed for wanting to stay away or take a break — and yet, Kate Valentine chose this season to make her triumphant return to the fashion week calendar with her year-old brand, Frances Valentine. But why now?
"That is a very, very good question," she says with a laugh. "We made it very small, very intimate, and it's a lot like how we're doing our distribution right now. It was a luxury we had at the beginning of Kate Spade, to do things slowly, work out the kinks."
Indeed, the setting for the spring 2017 collection was Valentine's cozy showroom, which is decorated to look like the interior of someone's home. It was appropriate for the line, which reflects Valentine's new, more mature — but still slightly quirky — aesthetic. "It has to have a little bit of charm without being too sweet or cutesy — I'm older now," she says with another laugh. "There has to be a modern sophistication without being too serious." 
Age, Valentine says, has made her think more about the architecture of the toe or the heel rather than the frills. For spring, the heels are (blissfully, practically) low, with hints of fur on mules or bright metallics adding a dose of fun. But beyond designing for herself and her own closet, there was no point of inspiration or mood board.
"I always feel like I have to have a 'statement,' but I don't really do that," she explains, admitting she doesn't feel interviews are her strong suit. "The designing thing I adore, but sometimes you feel like you should have a really good answer. It's not really that orchestrated."
Also not orchestrated is the growth of the brand, now in its third season. Valentine had bags on show, in more great, practical shapes, but doesn't have concrete plans as to what the brand might branch out into to next. "I haven't really thought about it, I'll be honest. Before, it was very natural," Valentine says; jewelry, which she loves, is on the table, as could be another small foray into home goods. For now, though, designing shoes and bags for women like herself is working just fine — everything in the spring collection was both covetable and wearable, the holy grail of accessories.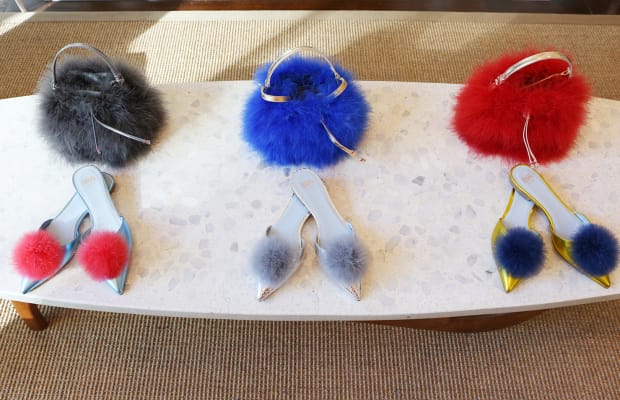 Want the latest fashion industry news first? Sign up for our daily newsletter.