Frank Ocean Secretly Sat Front Row at the Off-White Show
Alternate title: I Was Sitting 20 Feet from Frank Ocean on Thursday Night and No One Told Me, BRB Killing Myself
On Thursday night in Paris, Virgil Abloh presented his thoughtful, beautifully executed spring 2017 Off-White collection, based on his idea of the modern "business woman" (the invitation was a business card in a transparent envelope). In Abloh's sphere, "work" takes on a slightly different connotation: He rolls with musicians, artists, creative directors, designers and more, so he cleverly gave traditionally office-appropriate elements — crisp white and pinstriped shirting, sharp blazers, long skirts and overcoats — the conceptual, streetwise treatment he's become known for, by mixing them with slouchy denim, track pants, sweatshirts, glitter booties and much more. In sum, it was a delight.
Considering Off-White had the 9:00 p.m. slot in Paris — when editors, buyers, stylists and the like had been show-hopping for 12 hours — energy was high, especially during the finale walk, when "Solo," a fantastic track from Frank Ocean's recently released album "Blonde," played over the speakers. A number of guests started singing along (an almost reflex-like reaction) just before Abloh slid joyfully down a bannister in lieu of taking a bow. But do you know who somehow snuck into the front row without anyone taking notice, including a handful of the publicists working the show? That's right. Frank Ocean. I was sitting 20 feet away from Frank Ocean for at least 12 minutes and I had no idea. My fashion month is officially ruined.
While cameras captured Kim Kardashian and (a very sad-looking) Kanye West taking their seats on the sky-blue foam benches, the ever-mysterious Ocean seemed to appear out of thin air, his presence only confirmed later after some red wine and serious Instagram stalking. See below for proof: 
Unlike former Fashionista editor Leah Chernikoff, who bravely approached Ocean in the front row at Valentino back in 2013, I'm unsure that I would have been able to actually formulate sentences if I got close enough talk to him. What we're wondering now is: With his recent Calvin Klein duties and all, will the elusive artist be back on the fashion circuit for good soon? In the past, he's been selective about his fashion-world alignments, having only attended a handful of shows including Dior (during the Raf Simons era), Chanel, Yeezy Season 3 and, in 2013, Givenchy — he also appeared pretty friendly with creative director Riccardo Tisci at that year's Met Gala.
How about we all agree to listen to "Solo" on repeat for a couple of hours today to help will further front row appearances into existence?
And Frank, if you're still in Paris, let's hang.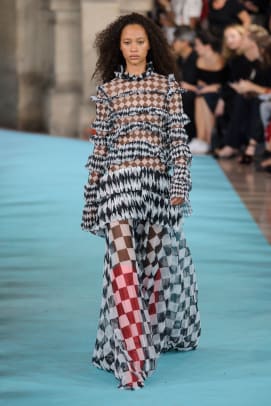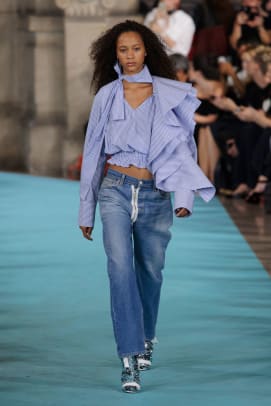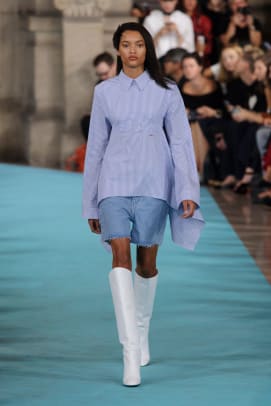 Never miss the latest fashion industry news. Sign up for the Fashionista daily newsletter.