Gucci's Alessandro Michele Sucks Us Into His Hazy, All-Pink World for Spring
The room was filled with smoke, but we saw just enough.
In New York, it's difficult to imagine anyone other than Marc Jacobs closing out the shows. He has always provided the proverbial mic drop of New York Fashion Week. Who could ever one-up him? In Milan, it seems that all designers who aren't Alessandro Michele are put in a somewhat challenging position now, as we left Gucci — the first big show of Milan Fashion Week — thinking about how they all have a very tough act to follow over the next six days.
First, there was the set: an all-pink-everything boudoir with what can only be described as disco balls made into walls, pink carpet with the signature Gucci stripes and a star motif going down the circuitous runway, pink velvet ottomans for seating and strings of mirrored squares dividing the space into sections.
Models emerged from a '70s-inspired beaded doorway, but it almost felt like they'd appeared from thin air thanks to the smoke that filled the room (and visibly irritated a few editors who wanted to better see the clothes... or maybe breathe more easily).
Despite the visual obstruction, the effect of the smoke machines and dark pink lighting was undeniably cool, and many elements of the collection were (intentionally) bold enough to be seen through the pink haze: eccentric headpieces; fans, shimmering sequins and paillettes on everything from gowns to pants to leisure suits; sparkly pineapple-shaped sleeves on a dress; piles of dyed tulle and very vertiginous, colorful platforms.
With the towering, glam-rock footwear, other '70s and '80s inspired pieces and overall theatrical rock club vibes, we were reminded of Jacobs's last few shows. But where Jacobs likes to reinvent himself regularly, Michele has stuck to the same eccentric, romantic, colorful, vintage-inspired script that we can't get enough of. Just about every look that came down the runway was unmistakably his.
Not that he hasn't evolved that aesthetic. Upon closer inspection (online photos), this was Michele's most adventurous collection yet in terms of color, fabric, silhouette and eye-catching accessories. 
Did a few looks veer towards costume-y? Sure. But it seemed that Michele was more interested in communicating a feeling than showing off the details of his clothes (that's what re-sees are for), and perhaps forcing us to rethink the way we perceive a runway show altogether. 
Michele called the collection "Magic Lanterns," writing in the show notes, "The clothes tell a story steeped in wonder, phantasmagoria and unorthodoxy. Such stories don't mimetically represent reality. They rather act as magic lanterns, as distorting mirrors, altering languages, signs and consolidated codes." He went on to quote French sociologist and intellectual Roger Caillois: "As in a game, the attempt is to destroy, for a moment, the stability of perception so that the lucid conscience is forced to undergo a kind of sensual panic."
There's no doubt that, for a few minutes, our minds were 100 percent in Gucciland and the experience left us a little bewildered. It wasn't see now, buy now; it wasn't a spectacle that took attention away from the clothes: it was something a lot more interesting, and another fascinating glimpse into Michele's genius mind.
See the full collection below.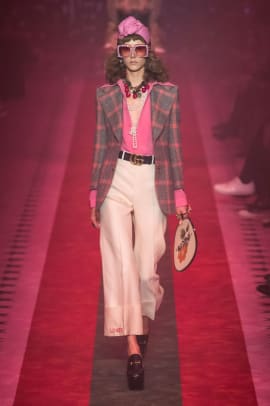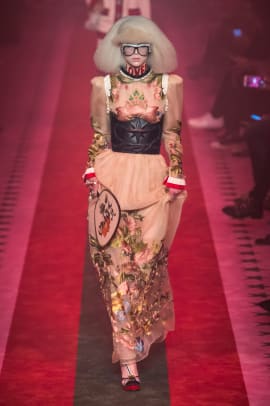 Want the latest fashion industry news first? Sign up for our daily newsletter.