Just Order the Frames for These Three New Harry Styles Covers Now [Updated]
He's the cover star of "Another Man"'s fall 2016 issue.
Scroll down for updates (more pics!) to this story.
Harry Styles, a man whom Rolling Stone once called "master of the power flounce," has been largely M.I.A. since he began filming the Christopher Nolan World War II drama "Dunkirk" in May. This, for reasons previously expressed on this website, has been a bummer. But having wrapped "Dunkirk" earlier this month and securing a solo contract with Columbia Records in June, Styles would like you to know that he's back and ready to receive your love once again.
On Monday, Another Man Magazine revealed that Styles is the star of its fall 2016 issue, doling out a trio of covers for the occasion. All three were lensed by different photographers and showcase Styles in different approaches. (Or styles, one might say.)
There's the Willy Vanderperre cover, which was taken just one day before his May 'cut by British hair stylist Anthony Turner.
There's the Alasdair McLellan cover, where there's an obvious Mick-Jaggerian thing going on.
And there's the Ryan McGinley cover. It needs no further explanation. 
Famous members of his fan club, Paul McCartney and Chelsea Handler, conducted the interviews, while an additional cover line touts "a special document curated by Harry." 
We'd recommend that you go ahead and order the frames for these three covers now, plus, some extras for the accompanying editorials. We've even cut out some of the work for you — here's a direct link to Amazon's "Picture Frames" section.
Welcome back, friend.
Update 9/29: After a long 48 hours spent calling every magazine retailer in New York City in hopes that one — just one! — might stock it early, Styles's Another Man issue is now available for purchase. The nice people at Dazed Media (Another Man's parent company) sent over the three covers by photographers Willy Vanderperre, Alasdair McLellan and Ryan McGinley. 
Enjoy those in the gallery below — and in the meantime, if you've been able to track down the issue on the island of Manhattan, let us know where in the comments.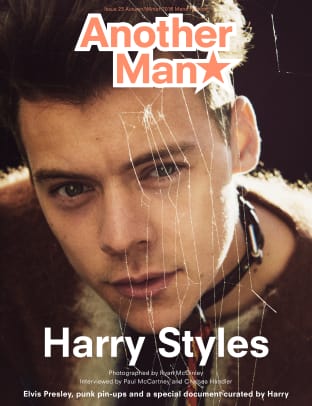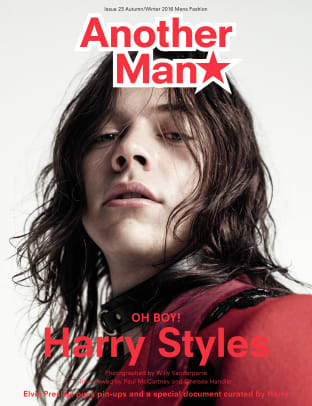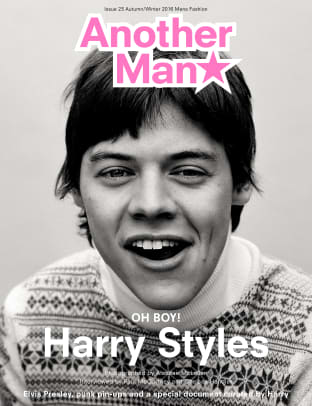 Note: This story has been updated to correct that the Vanderperre cover features Styles's real hair.
Never miss the latest fashion industry news. Sign up for the Fashionista daily newsletter.