Kanye West Faced the Fashion Crowd at Carine Roitfeld's 'Bazaar' Icons Party
"There's only *one* Carine."
During the Washington, D.C. stop of his "Saint Pablo" tour on Thursday night, Kanye West — fresh off of his critically panned Yeezy Season 4 presentation on Wednesday — stopped the show to give himself a little pep talk. "I have to say that today, I needed to hear these songs," he explained, between performing "Power" and "Black Skinhead." "I needed to re-hear the lyrics that I was saying or what I was feeling at the time I wrote these songs and had to overcome certain controversies." He was, of course, addressing the negative reports surrounding the fashion show; from The New York Times to WWD, West was declared persona non grata by industry bigwigs — not unlike when he made his Paris Fashion Week debut back in 2011.
However, West was not in the New York Fashion Week clear after his runway show ended: He was billed to perform at the third annual Harper's Bazaar Icons party, celebrating the Icons Portfolio Carine Roitfeld put together for the international editions of the glossy's September issue, starring the rapper-turned-designer and his wife, Kim Kardashian, in an intimate editorial shot by Karl Lagerfeld. Big-name headliner aside, the Icons party — held at the world-famous Plaza Hotel — is easily one of NYFW's hottest tickets, as Roitfeld's model muses (Lindsey Wixson, Kaia Gerber, Molly Bair, Daphne Groeneveld, Toni Garrn, Adriana Lima) turn up en masse, as do most of the celebrities in town for the shows, with Alexa Chung, Christina Hendricks, Nick Cannon and more all on hand for the Friday evening festivities.
The party didn't officially get started until the cover stars' family trickled in — Kylie Jenner in a tasseled Balmain mini-dress, Kris Jenner in a "Pablo" army jacket, Kendall Jenner wearing a feathered Marchesa gown — and West took the stage, just around 11 p.m. For 20 minutes he performed a medley of his hits, albeit sort of reluctantly at first. (West barely moved or looked up through the first song or two, but seemingly had a burst of energy mid-set, moshing with the black-tie crowd and dancing hand-in-hand with Roitfeld during "All of the Lights.") He made sure to include "Runaway," flipping the audience off as he sang the lyrics: "Let's have a toast to the douchebags; let's have a toast to the assholes." West, if nothing else, is certainly self-aware.
While those in attendance were clearly hyped to see West (despite the fact that many of them were fed up with him just days ago), he was sure to let the room know that he was only back in their presence because he loves and respects Roitfeld so much — something he's admitted on multiple occasions, most notably during a speech he made at Yeezy Season 3 inside Madison Square Garden. To close, he launched into the following rant:
"At the beginning of this performance, I tried my best to not try. I tried to listen to all the reports and shit — tried my best to stop trying. But I just couldn't do it. I couldn't stop! No matter what they write, I couldn't stop! I appreciate you going on this journey for me. I appreciate all of the years y'all put up with me learning in front of you, and listen to the music at the same time. I appreciate the moment when Carine put her friend on the cover. No, not this moment — I'm talking about when she put Tom Ford on the cover, and all you motherfuckers were like, 'Nah, Carine, nah...'. But she's a motherfucking icon, though. There's only one Carine."
West then dropped the mic and walked off stage, leaving the crowd hanging on his every word, if not a bit confused. The champagne was still flowing and the party went on, but we're curious to see whether the artist continues to make the rounds this week — he seems to be as displeased with the industry right now as it is with him.
Check out the gallery below to see all the best looks from Roitfeld's Harper's Bazaar Icons party.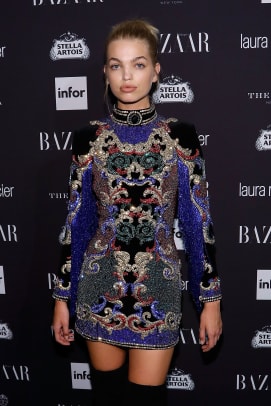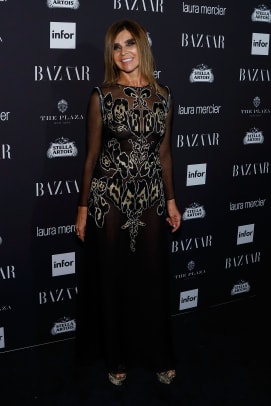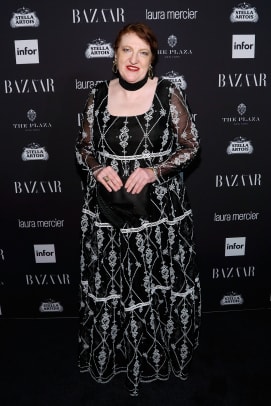 Never miss the latest fashion industry news. Sign up for the Fashionista daily newsletter.