Obesity and Speed Designer Lyz Olko's Eponymous Line Makes Its NYFW Debut
The designer presented her '80s-sci-fi-inspired collection entitled "Watch the Skies" with a special performance by Pretty Sick.
Lyz Olko might have started her first fashion line, Obesity and Speed, by accident, but her second is a conscious creation on every level. "The new line is so directly related to everything I care about and do," said Olko at a celebration for her new namesake line's second collection on Friday night at Elvis Guesthouse. Although she already has a decade of experience under her belt with Obesity and Speed, it marked the first time she had ever presented during New York Fashion Week: After a stylist spotted a shirt she made during college while working in a clothing store, the line grew from selling to friends to retailing at Urban Outfitters. 
Olko is vegan and passionate about making a "positive impact on the environment and the people around [her]," through her work. But by the time she launched the final collection in spring 2015, Obesity and Speed had grown to be too large and commercial to have that kind of control anymore. "It's not that it's overwhelming; there's just a lot of frustrations involved dealing with larger corporations and things like that," she said. "As you get older, your tastes evolve and I started to feel less connected to that aesthetic." Olko also felt the pressure to deliver more product, faster and cheaper. So, instead, she took a break from fashion — she's also the director of nightlife and VIP services for the Jane Group — to figure out her next move. Olko decided to "start something that's smaller and also more directly connected, actually, to who I am and everything that I'm about... if it becomes a business, it does; if it doesn't, it doesn't." (Obesity and Speed hasn't ceased to exist completely; Olko still makes pieces upon request and the website still sells product, but she's not producing anything new.)
Now in its second season, Lyz Olko, the line, is the smaller and more personal business she wants it be. "I didn't originally set out to do wholesale and sell to other stores," she said, but has grown accounts after her launch with Curve. The line of upcycled denim, bomber jackets and ready-to-wear dresses is made in New York or the U.S., much by her in her studio. Reducing waste is a priority. Aesthetically, she describes it as simple but elegant, feminine without being stereotypically girlie.
For the spring 2017 collection entitled "Watch the Skies," she found inspiration at the New York Public Library in Bryant Park and spent days looking through different books and picture files about NASA and the space race between the U.S. and the USSR after World War II. Then she migrated to the science-fiction section. "And then I made a joke to somebody about how, 'Oh, it's like 'The Last Starfighter.'" Olko said she's always been heavily influenced by music and films, and this collection is no exception. Netflix's "Stranger Things" was another important reference point. 
Instead of a traditional presentation or runway show, Olko hosted a special performance by New York-based rock band Pretty Sick. Olko says she met front woman Sabrina Fuentes and enlisted her to perform wearing the fall collection. She asked the all-girl band to bring friends and dressed them, too. "For the brand, it makes sense," she said.  
As for the future, Olko is eager to see the line grow and see people wear it. "Each thing that happens, that I didn't even plan for, that becomes another goal and a motivating thing," she said. "I just like being able to do stuff like this, that isn't stereotypical. There's all these different opportunities and projects that can come from doing this line." To infinity and beyond.
See images of Lyz Olko's "Watch the Skies" collection presentation in the gallery below.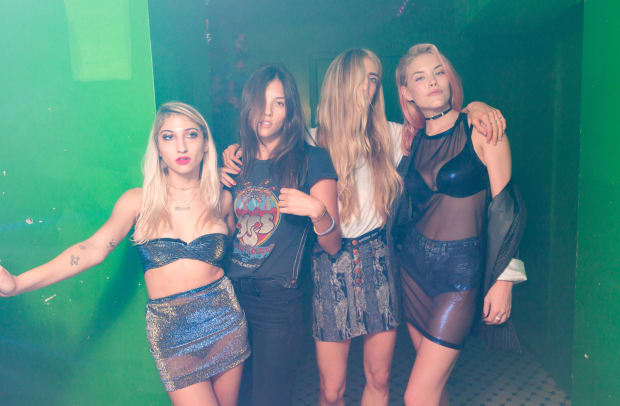 Never miss the latest fashion industry news. Sign up for the Fashionista daily newsletter.