Madewell is Teaming Up With Sézane (Again!) For the French Girl Collection of Your Dreams
Surprise: It's all very chic.
On a particularly good outfit day, someone once told me that I happened to look very "French" and it was probably the best compliment I've ever received. Who doesn't want to look even just a little bit French? No one ever, that's who. This love of all things striped, slightly boyish and yes, chic, inspired Madewell to team up with Paris-based label Sézane back in 2014 on their first successful collaboration, and now the two brands are partnering for a third time. The newest 23-piece collection of knits, dresses, accessories and outerwear hits stores and online on Oct. 4. We caught up with Madewell's head of design, Joyce Lee, and Sézane founder Morgane Sézalory (clad in matching marinière tees from the collection — a happy accident, it turned out) at a preview for the upcoming collection.
This is the third time Madewell and Sézane have collaborated together. What was your inspiration this time around?
Morgane Sézalory: It's a very typical Parisian style. I love '60s movies, so that is the inspiration, in general, with Sézane. I have a vintage background, and I think [the collection] has a very vintage feel with a mix of modernity. The idea is to represent how the Parisian girl would dress, and I'm so happy to share the vision with Joyce. We tried to make it look "French", but to adapt it to American women.
Joyce Lee: We were excited to again, figure out what the edit would be this time and what it would look like and how it ties back to our Madewell collection. A lot of the pieces are easy to wear; I love all the gold buttons and the little details. Sézane brings a feminine touch to the Madewell side so it's a perfect compliment. There's just a lot of pretty, magical stuff that happens when two brands work together!
I love the range of fabrics in the collection. Can you tell us a bit about what the design process was like?
MS: When you design a piece, the fabric is the beginning. For example, we found this [grey wool] fabric, so it inspired the coats, because you want something that looks soft and loose. And for example, when you see a fabric like that, and look at the buttons, you would want them to be covered. And the crêpe, it felt so pretty and draped. It looks very good on women because of the heavy feel of the fabric, so it's very flattering. You want women to feel good in the clothes, and I think that's the same idea with Madewell: to make women look and feel good.
JL: We approach it in the same way, which I think is why it was so easy to work together. We love all the textures in the collection — the knit T-shirts are soft and I also love all the textures in the outerwear that we have. We also have some silk and sweaters, so there's just a nice mix of textures. And also, a lot of these things look great with denim.
Can you tell us about the accessories in the collection?
MS: In Sézane, back in France, the main product [we do] are shoes and bags. In general when I think about the new [Sézane] collections, that's what we do first. So it was really cool that Joyce wanted to trust the brand and follow [our lead.] The satchel bag is very representative of what we are and I also think it's a great definition of Madewell.
JL: Exactly. That's why the bags and shoes from the collaboration, and the boots especially, are so perfect for Madewell because it feels like "us."
What are some of your favorite pieces from the collection?
MS: [gesturing to her T-shirt] Look!
JL: Me too! 
MS: This wasn't even planned! It's so funny. But I also love the bag!
Is there a feeling or emotion you want women to experience when wearing the clothes?
MS: A little bit Parisian, but I think with Madewell, it's always about wanting them to feel cool and easy.
See the Madewell x Sézane collection in the gallery below.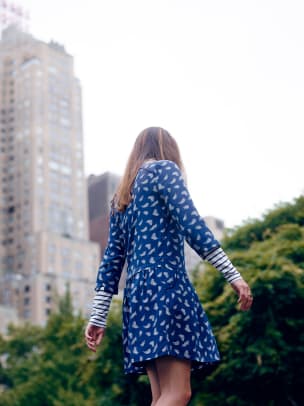 Never miss the latest fashion industry news. Sign up for the Fashionista daily newsletter.