Here's John Galliano's Fantastical Take on Athleisure for Maison Margiela
Including some brave additions to this season's ugly-sporty shoe trend.
New York designers got on the athleisure bandwagon many seasons ago, but it's taken longer for some of the European heavyweights — particularly those less concerned with wearability than artistry or eveningwear — to start incorporating athletic elements into their collections.
We've already seen a surprising number of brands in Milan make a push for sportswear this season — including Versace and Max Mara — and Wednesday in Paris proved that even legendary designer John Galliano isn't immune to the trend as he added some sporty touches to his Margiela repertoire for the brand's spring 2017 "Défilé" collection. Of course, he did it in his own way, and function wasn't necessarily at top of mind.
One dress looked like a wetsuit over a swimsuit with a towel-skirt hybrid; sporty anoraks were done in nylon and other fabrics like suede; and one model wearing a fuzzy pink leotard and matching cardigan even carried a teal yoga matt on her back. One "shirt" paired with swishy nylon shorts was styled to look like a towel wrapped over one's shoulders post-workout. Then there were the shoes, including many solid addition's to this season's growing supply of ugly-chic footwear, featuring a sneaker-like sole, boot-like silhouette and Vibram-like toe separation:
Trench coats and workwear jackets belted at the waist were also featured heavily and in many instances, looked almost shockingly similar to looks in Prada's spring 2017 collection — particularly those paired with bloomers and knee-length skirts.
See the full Maison Margiela spring 2017 collection in the gallery below.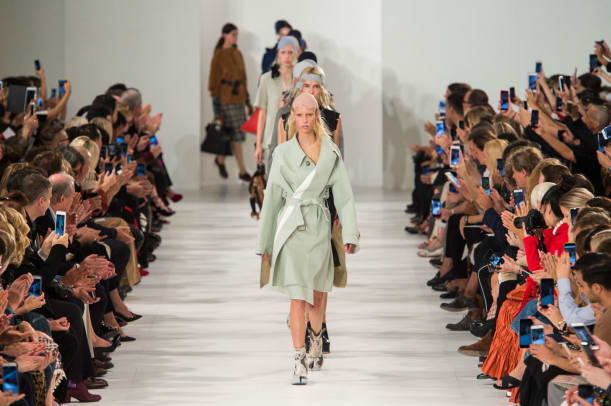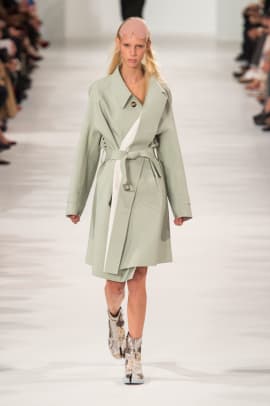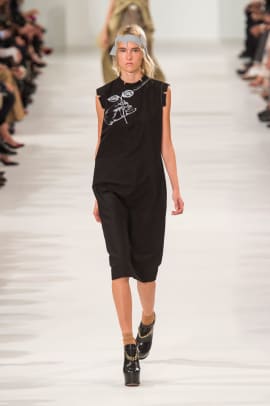 Want the latest fashion industry news first? Sign up for our daily newsletter.