Michael Kors Collection Shows a Sunny Future for Spring 2017
It's time to chase all your cares away.
This season, every designer has tried to find a way to make his or her slot on the New York Fashion Week calendar feel special, whether it be with a blow-out party or an intimate gathering. Fortunately, Michael Kors is a man who knows a thing or two about putting on a good show — and, just in case, he tapped fellow showman Rufus Wainwright to give his Spring 2017 collection a live soundtrack. Talk about a crowd pleaser.
Wainwright performed songs by Judy Garland, a reprise of his 2006 performances and live album of the Hollywood legend's hits. The show tunes — classics like "Zing! Went the Strings of My Heart" and "Almost Like Being in Love" — were the ideal backdrop for the old-school romantic feel of the collection, which read like the 2016 interpretation of the 1970s version of the 1940s (did you get that?). Dresses and skirts were fitted to the knee before flaring out, bathing suits featured high-waisted bottoms, and looks were finished by looming platform heels or flatforms. The oversized, menswear-inspired pieces called "Annie Hall" and Katherine Hepburn to mind; a navy sweater bearing the word "LOVE" and sleeves extending past the wrist is surefire street style bait come February.
It was certainly a brighter collection than we've come to expect from Kors, who typically stays within classic, Americana neutrals like camel and navy. Those colors were there, but mixed in among sequined florals in poppy colors like azalea pink and meadow green. A group of black femme fatale dresses — fitted to the body, with flirty touches of ruffles, embellishments, or up-to-there slits — are red-carpet ready for Kors's legion of famous devotées.
Wainwright brought the house down with "Get Happy" for the finale — and with clothes like this, who couldn't forget their troubles?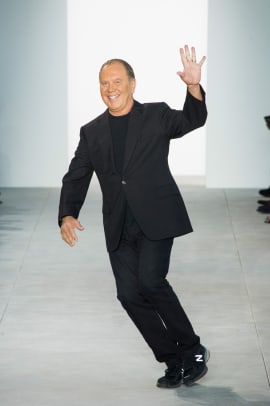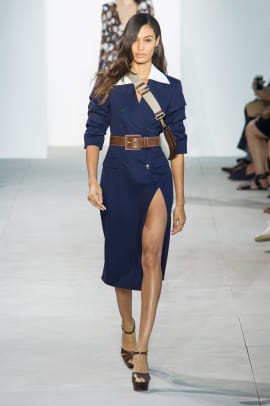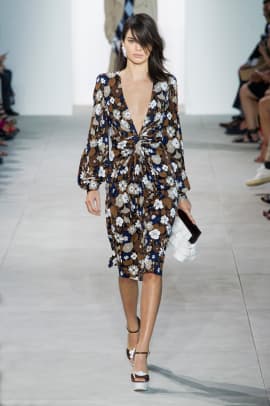 Want the latest fashion industry news first? Sign up for our daily newsletter.