'Valley of the Dolls' Gets the (Very Literal) Moschino Treatment
Jeremy Scott dressed up the Hadids like actual paper dolls, while also debuting a "see-now, buy-now" ~capsule~ collection covered in pills. (Get it?)
Since Jeremy Scott took the helm at Moschino three years ago, each season has begun with a guessing game as to what theme (typically something low-brow or relating to consumer culture) the clever designer will decide to interpret literally. But this time, we had some clues: at the designer's psychedelic '60s Los Angeles-inspired resort show (in Los Angeles), Fashionista contributor Corinn asked Scott if Jacqueline Susann's wonderfully scandalous 1966 novel "Valley of the Dolls" (or the 1967 film version) was a source of inspiration. His response? "No, but — well, I can't say more than that because it will give away secrets." Then, when our invitation to spring 2017 — a prescription pill bottle filled with capsules (candy) and an RX slip handwritten by "Dr. Moschino" — arrived, we had some ideas. ("Dolls," in the novel, are another word for pills.)
As Gigi Hadid opened the show in a short wig, made up like a '60s Barbie, in a gown that looked like paper (tabs and all), Scott's interpretation became clear. The designer has had plenty of fun with trompe l'oeil over the years, but for spring 2017, everything was trompe l'oeil: two-dimensional, life-size paper doll versions of iconic Moschino looks — from swimsuits and sweatsuits to coats and evening gowns. Even the accessories looked like they were made of paper from the audience's point of view. "What you see and what you get are never in sync," reads a line from the show notes.
We don't yet know if those looks will actually be produced with stiff paper tabs sticking out from the sides, but eager shoppers, as is the case every season, will be able to shop a capsule collection straight from the runway covered in capsules: a pill-print sweater, an iPhone case that looks like a box of prescription medication, a T-shirt that reads, "Just Say Moschi-NO," etc. The collection drops Sunday at Stylebop.com. 
Also referenced in the show notes is Susann's opening line from "Valley of the Dolls," one that I've remembered since I read the book shortly after moving to New York 10 years ago: 
You've got to climb Mount Everest to reach the Valley of the Dolls. It's a brutal climb to reach that peak. You stand there. Waiting for the rush of exhilaration; but, it doesn't come. You're alone and the feeling of loneliness is overpowering.
It's #dark, but real, and the show got us thinking about a few things: consumerism, design copyright, the pitfalls fame, the fleeting nature of fashion, drugs. But mostly, it was funny, and fun from a model makeover perspective, with some of the industry's most recognizable faces preening in retro cocktail attire and a Barbie beauty look. Normally, we'd file this under good model casting gone bad, but it perfectly underscored the (intentionally) contrived, temporary feeling of the collection. (Another line from the show notes: "She is the template, ready to be outfitted.") See it all in the gallery below.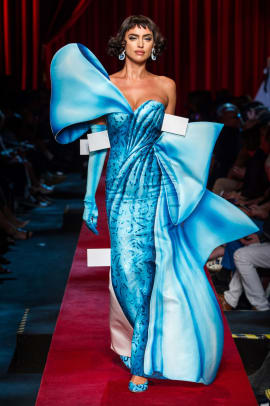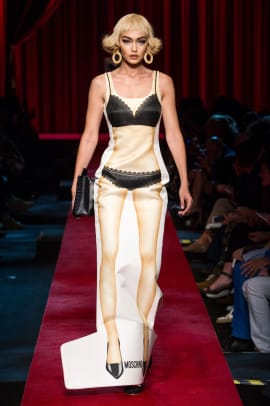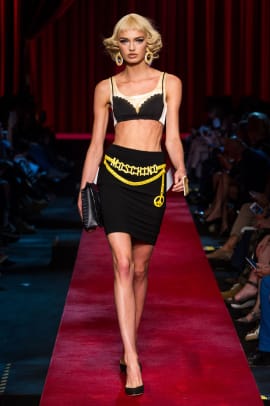 Never miss the latest fashion industry news. Sign up for the Fashionista daily newsletter.