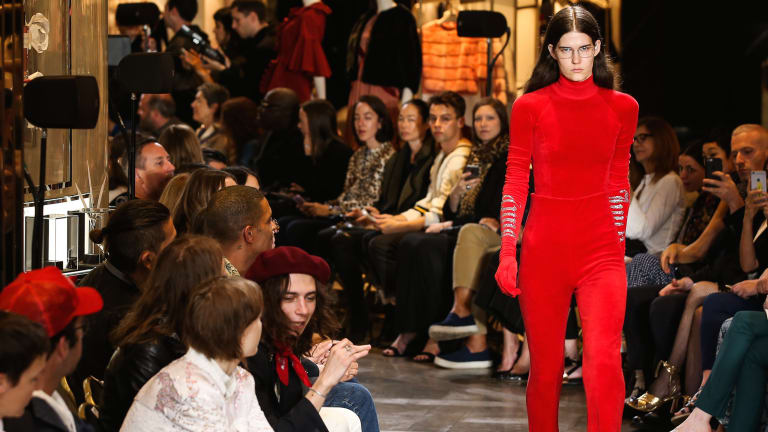 Why Retailers Are Banking on Millennial Nostalgia for Fall
Big-name buyers and top-tier professors break it down for us.
Fashion has always been trapped in a love affair with the past. For example, boot-cut jeans, now a retail staple, owe their initial birth to bell-bottoms being such a frequent reference in mid-90s collections that retailers ran to their drawing boards and conjured up a contemporary version of the style. Decades are obsessed with other decades past. With its plain dresses, flared jeans and corduroy, the sleek 90s concerned itself heavily with the 70s; computer rooms and AIM chat had just entered nearly every American household, and high fashion's response to the new cyber-world was simplistic, almost utopian, dress. Now, "the tenties" — the name being work-shopped for our current decade — has entered a serious relationship with the 90s, romanticizing the decade as a time when the Internet was still novel and a comfortable, safe distance from our identities. And, perhaps, the clothes were just better.
But at this point, it seems like the 90s revival has taken our decade hostage and claimed it as its own. From du-rags appearing on Givenchy's runway in 2012 to overalls taking over fast fashion in 2013 to Raf Simons's and Demna Gvasalia's 2016 takes on puffer jackets, trends from the 90s can be found in both Parisian boutiques and H&M. But just why is the 90s revival seemingly lasting longer than the 90s itself? Are retailers pillaging and exploiting millennials' childhoods for profit, or are millennial shoppers simply too nostalgic for their own good?
"A much larger proportion of 20-somethings today are college-educated, which means that they have had more time to explore their identity, their interests, their dreams than previous generations who started full-time work a lot earlier," says Ursula Diamond, clinical assistant professor at NYU's Child Study Center. This free time for deeper identity exploration is obvious through the popularity of Tumblr and Instagram, where millennials have the opportunity to hyper-cultivate their identities. And, judging from the smorgasbord of memes from 90s cartoons and shows like "Dawson's Creek", "Hey Arnold!" and "SpongeBob SquarePants," a chief faction of millennials' identities appears to be their childhoods. According to a 1998 Nielsen report, the average American child watched around 20 hours of television a week. In that same report, it was said that most parents spent only 38 collective minutes talking to their children every week. So the average millennial spent most of his or her childhood watching rather than doing. This offers a partial explanation as to why we're so viscerally inspired by Claire Danes' overalls and baby doll dresses in "My So-Called Life" or Keri Russell's oversize sweaters in "Felicity": because we spent so much time watching them.
"The millennial generation was really the first to see the abolition of specific tribes and subcultures, growing up in a time of more fluid aesthetics and personal style," says Coco Chan, head of women's ready-to-wear and accessories at Stylebop, who stocks subculture-crossing brands like Alexander Wang, Rihanna's Fenty X Puma line and the throwback Hilfiger Collection. Tumblr operates almost as an encyclopedia of nostalgia; blogs like 90schildhood and Y2K Aesthetic Institute are particularly popular for their cataloging of the most obscure, minute and representative trends from 1990 to 2006. As we entered the 2010s, consumers presented their self-cultivated, 90s childhood-inspired identities online through GIFs, images and BuzzFeed articles like "32 Reasons Why Christmas Was Better In The '90s" — and retailers took note.
"A major factor in what we do and how we curate our selection is Instagram," says Lisa Aiken, retail fashion director at Net-a-Porter, which is currently selling those much-talked about Balenciaga puffer jackets. "I think Instagram has done the same for fashion that YouTube has done for music. YouTube is amazing for discovering unknown talents. The same is true with Instagram. You sort of go from one profile to the other and just dig deeper."
But can millennials even afford this stuff? These high-end puffer jackets go for thousands of dollars, and let's not forget millennials are not only knee-deep in the past, but knee-deep in debt. According to The Institute for College Access & Success, seven out of ten 2014 college graduates walked across the stage with a diploma in one hand and $28,950 of student debt in the other. But at the same time, millennials are also the same generation willing to shell out serious bucks for craft beer and artisanal hand-churned butter. Millennials have also outstripped baby boomers as the largest spending group in America, holding "$200 billion in direct purchasing power and account for $500 billion more in indirect spending through influencing their parents," CNBC reports. "... The next generation of retail powerhouses will master both domains, creating a seamless and personalized experience for shoppers," a Euclid Analytics' survey reported this year.
It's not just consumers who possess a genuine love for the 90s; designers do, too. Riccardo Tisci of Givenchy and Shayne Oliver of Hood By Air were among the first designers to bring 90s urbanwear — composed of baggy silhouettes, hyper-masculinity, and lots and lots of mesh — back en vogue beginning in 2012. After that, Jeremy Scott of Moschino presented a show inspired by the Looney Tunes hip-hop designs (ex: Tweety Bird wearing a gold chain, a backwards baseball cap and a fearsome growl) that had proliferated nineties urbanwear. And many others followed.
This year, Vetements made headlines during Paris Couture Week when they collaborated with Juicy Couture on a throwback, grunged-out velour jumpsuit, putting the brand so heavily associated with Paris Hilton, "Mean Girls," and quick trips to Starbucks back on high fashion's radar. "Demna [Gvasalia] contacted me saying Juicy is a brand that he and his brother have always looked up to, and that they wanted to collaborate with us," says Nick Woodhouse, President and CMO of Authentic Brands Group (which owns Juicy Couture). "They took this classic and put a new spin on it. Our team was certainly helpful, but it was the vision of Demna and Guram, for sure." In addition, accessible brands like Urban Outfitters have seen huge financial success in recent seasons thanks to nostalgic collaborations with brands like Calvin Klein, Fila and Wrangler.
The interesting cocktail of novelty mixed with familiarity produced by millennial interpretations of the not-too-distant past may be exciting and profitable, but there is a deep danger in rolling around in nostalgia. It's important to remember that the 90 were not an idyllic time by any means: There were Y2K fears, race riots in Los Angeles following Rodney King's beating by the LAPD, the Kosovo War and a vicious debate over whether or not gays could and/or should serve in the military, to scratch the surface. But none of this is included in the narrative when we reduce the decade down to overalls and puffer jackets.
Alison Landsberg, a professor of History and Cultural Studies at George Mason University and writer of Prosthetic Memory: The Transformation of American Remembrance in the Age of Mass Culture, warns, "I think nostalgia can be pretty politically reactionary. It's retreating into a safe past rather than engaging with the complexity of the present. A nostalgic version of the past is never an accurate depiction of the past. It's always a sort of stylized, idealized, sterilized version of it."
According to Landsberg, societies tend to become nostalgic for an earlier decade 15 to 20 years after its conclusion, so it makes perfect sense that the 90s is having its moment. But what is so weird about this revival is its endurance. According to retailers, the 90s will continue to be reinterpreted and reimagined for a while. "The Juicy Couture track suit had a long lifespan the first time around," says Roopal Patel, fashion director at Saks Fifth Avenue, which will exclusively sell some of the pieces from Vetements's fall 2016 collaborations. "I have no doubt that we will see waiting lists and reorders for these items that will keep them around again for some time." And with the rising popularity of luxe sportswear — which borrows heavily from early 2000s streetwear — and more gaudy early-aughts fashions entering the scene this summer (think chokers, animal prints, bared midriffs and iridescent materials), the millennial obsession with the past is not slowing down at all.
  
"We've always been a nostalgic society," explains Landsberg. "'Happy Days' and 'Laverne and Shirley' were really popular television shows in the 70s and 80s and they were a glance backwards at the 50s. What I would say about nostalgia is that it tends to surface and become really popular at moments of social unrest or social anxiety or concern; when there's a feeling of uncertainty in the present that's usually a moment when nostalgia comes to the fore because people are looking for something safe and familiar in the past." And with a shaky job market, contentious presidential race underway and rising student debt, it's not too hard to imagine why millennials would find the past to be comfort food. 
Homepage image: Richard Bord/Getty Images