Olivier Theyskens Returns to Paris Fashion Week With a Bang, 14 Years Later
The designer's spring 2017 collection left us wondering why he shuttered his namesake line in the first place.
When the buzz first began in July that beloved fashion wunderkind Olivier Theyskens was set to revive his namesake line, we were thrilled. Since shuttering the label in 2002, the Belgian designer has certainly kept busy as the creative director of multiple brands: Rochas starting in 2002, then Nina Ricci in 2006 and Theory in 2010. When Theyskens left his post at Theory after the pre-spring 2015 season, we figured — of course! — he'd be headed straight for the creative director roles that had opened up at major French houses such as Dior and Balenciaga. Instead, Theyskens was plotting away on his own for his spring 2017 collection, which debuted Tuesday during Paris Fashion Week.
In many ways, the range left us wondering why Theyskens ever closed the label in the first place. In an exclusive interview with Vogue, he said that while he was "always willing to relaunch," it wasn't until two years ago that the moment felt right. The collection reflected that, with each look maintaining a Parisian sense of maturity and utility that also embodies where the industry is today. While his characteristic ballgowns were there, as expected, the more informal pieces showcased his growth as a designer. The collarless coatdresses, belted trenches and subtle leather accents felt more work-appropriate than anything else. "Throughout the collection, an immaculate attention to detail abounds in full silk linings and grosgrain trims, or buttons in polished stone or exotic skins," read the show notes. Everything was wearable while feeling luxe at the same time, including the eveningwear. 
Theyskens told Vogue that was precisely the point. "I want to be humble, and I just want to say also that it's not trying to be a big brand," he said. "It"s a project that's just starting, it's something we want to build, and it's something that's really precious to us."
Click through the gallery below to see Theyskens's full spring 2017 collection.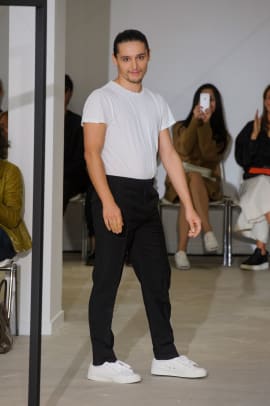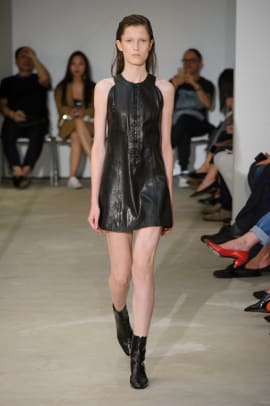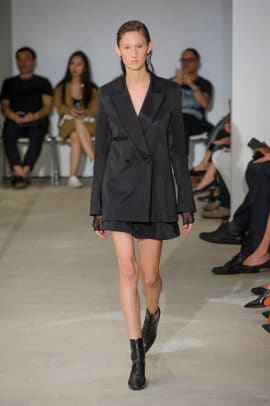 Stay current on the latest trends, news and people shaping the fashion industry. Sign up for our daily newsletter.