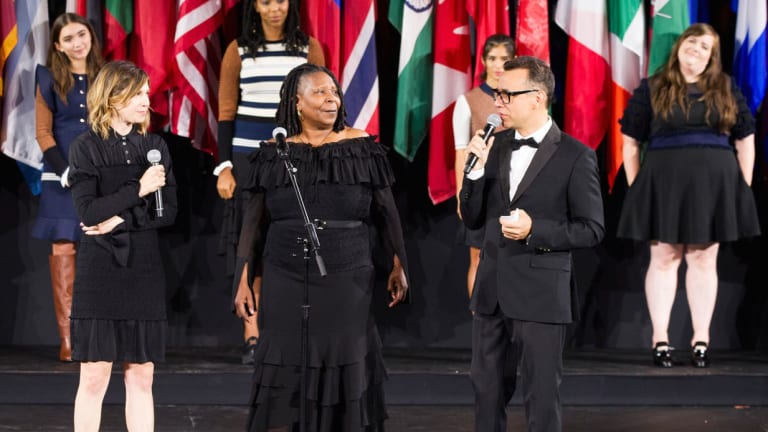 Opening Ceremony's Charming Pageant Smartly Brought Politics to Fashion Week
Carol Lim and Humberto Leon used their NYFW stage as a platform to shed light on the importance of democracy.
On Sunday, the evening of Sept. 11, Carol Lim and Humberto Leon of Opening Ceremony — both first-generation Americans — used their New York Fashion Week stage to do something that few designers have dared thus far (unless you count the sporadic anti-Trump messages on the runways): they opened the floor for a frank discussion about pressing political issues, and to emphasize the importance of voting in November's upcoming election. "[This] show is a tribute to the American democratic process, and the diversity of those who participate in it," the designers wrote in the booklet passed out to audience members. "On the surface, fashion has very little to do with politics. Yet when we get dressed, we make decisions about which aspects of ourselves to present to the world."
Hosted by "Portlandia" duo Fred Armisen and Carrie Brownstein, the runway show doubled as a pageant — dubbed "Pageant of the People" — and featured an impressive cast of OC friends and family in addition to models wearing the fall and winter 2016 collection. Armisen and Brownstein ad-libbed commentary as each model walked ("One of these girls is a robot, we won't tell you which one, but it's harder to guess than you'd think," quipped Armisen), and when each "pageant contestant" took the stage, they were asked a question regarding a political issue that matters to them. 
Rashida Jones addressed the Syrian refugee crisis and why it's our responsibility as Americans to care; Diane Guerrero of "Orange Is the New Black" spoke on immigration reform, as her parents and brother were deported back to Colombia when she was just a teenager; teen activist and actress Rowan Blanchard touched on feminism and privilege; and Sarah McBride, the LGBT rights activist and national press secretary of the Human Rights Campaign who came out as transgender four years ago, eloquently and passionately explained what being an American means to her. She said:
Being an American is an action... being part of this constantly perfecting union that with each generation expands on a stilted view and understanding of 'We the People.' When I came out, I worried that my dreams and my identity were mutually exclusive. But things are changing, and we must never be a country that says there is only one way to love, one way to look and one way to live. We must be a country where everyone has the freedom to live openly; a country that says you can be gay, you can be trans, a woman, black, muslim — you can be any of those things and still be seen, still be valued and still be respected as the equal humans we all are.
Despite the serious subject matter, the tone of the pageant was lighthearted and witty, thanks to comedic interjections from Aidy Bryant, Aubrey Plaza, Jessica Williams and, perhaps most fabulously, Whoopi Goldberg. The contestants made for a notably diverse cast; but more importantly, they made us think. Each woman on stage had a unique, personal reason for why she was heading to the polls in November, and listening to them speak shed light on issues that I, personally, hadn't considered much throughout this election season. 
Covering fashion week during such a politically charged time — and on the 15th anniversary of the September 11th attacks — can feel frivolous, so the hour that Lim and Leon dedicated to discussing democracy (specifically, our duty as Americans to get out there and vote) was a welcome and smart respite from the continuous slog of runway shows. Oh, and they're putting their money where their mouth is when it comes to the democratization of fashion, too: pieces from the show are already available for pre-order at Opening Ceremony and Saks Fifth Avenue, and will ship to shoppers in just three weeks.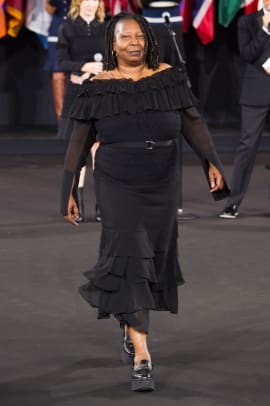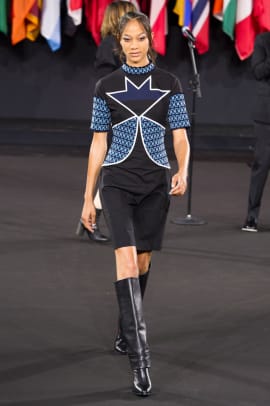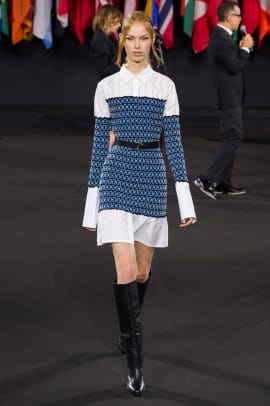 Want the latest fashion industry news first? Sign up for our daily newsletter.