Oscar de la Renta Goes Back to Basics for Spring 2017
The brand hit the reset button in between creative directors.
When human beings go through bad breakups, the first instinct is to get rid of all reminders that one's ex was ever present: delete all photos, block phone numbers, throw out any personal belongings. When a fashion brand goes through a bad breakup, it's about removing all evidence the previous creative director was there. Such was the case for Oscar de la Renta on Monday, which presented its first collection since the departure of Peter Copping in July. 
In his two-year tenure, Copping attempted to inject a more youthful feel into the legacy brand, edging towards sexier, lingerie-inspired detailing like lace paneling, leather skirts and bustier tops. Though Copping was handpicked by Mr. de la Renta himself, there was a feeling that perhaps his vision did not meld harmoniously with that of the company's, with Chief Executive Alex Bolen telling The New York Times: "Fashion businesses work best when the creative team and the business team speak the same language."
That the brand might be interested in walking back some of Copping's advances was evident in the spring 2017 collection, a perfectly lovely outing that was more reminiscent of Mr. de la Renta's work than anything Copping presented. Like the special "summer 2016" collection the brand presented in Sydney, this was more about pleasing customers than moving the messaging forward. The collection was a safe vision of what the Oscar de la Renta woman would pack for a trip to warmer climes, with plenty of white day-dresses, safari-jacketed suiting, and embellished and embroidered evening options. 
What the collection lacked, however, was direction, something that happens naturally to creative teams left without a captain. Fortunately, Monse designers and Oscar de la Renta alums Laura Kim and Fernando Garcia — seated in a place of honor next to Annette de la Renta, Eliza and Alex Bolen and Anna Wintour — have been named creative directors, with a debut slated for next February. Considering the warm reception the duo received from their hosts and their proud approval of the work shown by the Oscar de la Renta team, this union may prove to be much happier than the last.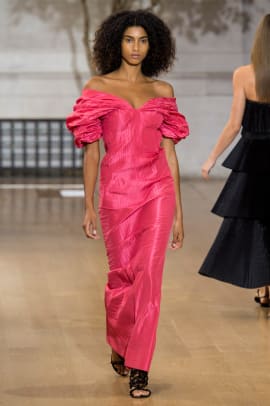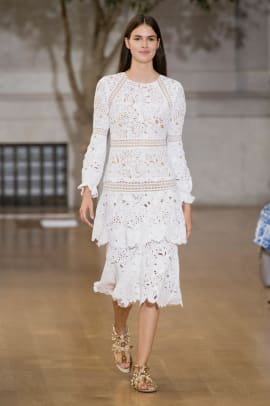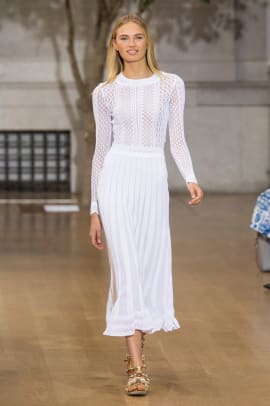 Want the latest fashion industry news first? Sign up for our daily newsletter.