Hey, Quick Question: What the Hell Is Going on at Philipp Plein's Spring 2017 Show?
For starters, it's called "Alice in Ghettoland."
Welcome to our column, "Hey, Quick Question," where we investigate seemingly random happenings in the fashion industry. Enjoy!
Philipp Plein is well-known for his extravagant undertakings when it comes to runway shows. Past seasons have included giant robots and Courtney Love, an actual fire, a functioning roller coaster, machine guns and a sea aquarium. In a previous interview with Fashionista, the designer explained that he puts on such spectacles so that his independent namesake label can stand up against its more established luxury-brand competitors. (Gucci, for example, showed the same day as Plein this season.)
On Wednesday night at Milan Fashion Week, the designer lived up to our expectations. Moreso, he actually left us wondering what the actual hell was going on? For starters, the invite had the hashtag #aliceinghettoland, and there was a twisted fantasy Candyland theme to his runway set. Not to mention the runway cameo from Paris Hilton and performances by Fergie and Fat Joe. Read on for our quick and crazy recap below thanks to a little thing called social media.
A Gnome Named "Pimp"
No, this is not a fever dream. This is the runway set for Plein's show. Welcome to "Ghettoland."
A Swing Ride
Nothing preps a group of models for the catwalk better than suspending them in the air on a swing for a bit.
Fat Joe
As the models were spinning in circles, Fat Joe showed up to perform his latest hit "All The Way Up," which is fitting.
Paris Hilton
In case you don't follow her on Snapchat, Paris Hilton is in Milan. The former reality star took a break from her busy DJ schedule to walk Plein's Tumblr-pink runway.
Fergie
The runway set *kind* of reminds us of the singer's music video for "M.I.L.F. $" so, sure, this makes sense.
Ice Cream!
Yay! Ice cream! But did these vintage Volkswagen vans actually give out ice cream? We don't know! They're cute anyway!
A Marching Band
Then these guys showed up! No ice cream for them, probs.
See Philipp Plein's spring 2017 collection in the gallery below.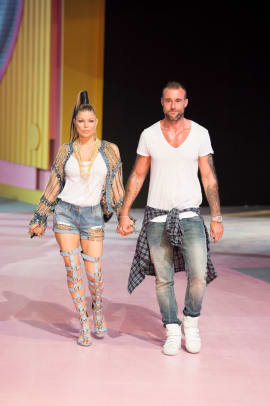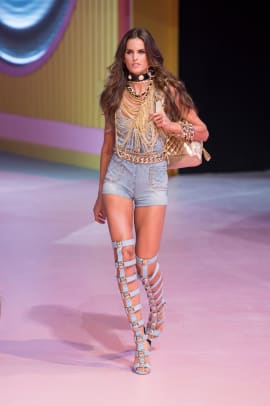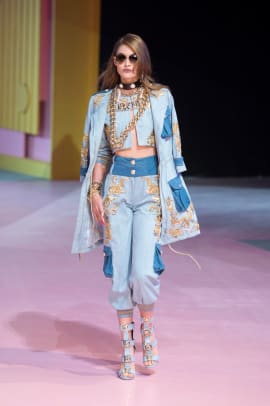 Want more Fashionista? Sign up for our daily newsletter and get us directly in your inbox.