Suki Waterhouse Just Launched the Most Millennial Accessories Line Ever
Tumblr pink, customizable, direct-to-consumer...
After nearly six months of Instagram teasing, Suki Waterhouse and her best friend Poppy Jamie finally unveiled their joint accessories line Pop & Suki on Monday morning and are taking pre-orders until its official launch in November. It's simple, affordable and also quite possibly the most millennial-focused brand we've ever seen. Let us count the ways:
1. A Tumblr-pink aesthetic
Any brand or campaign that coats itself in this pastel pink hue is likely targeting the millennial consumer. (Think Glossier and Mansur Gavriel.) And if you ask us, the visuals/creative direction are nearly the same, too. 
2. Inspired by squads and girl gangs
Pop & Suki is currently riding the "girl gang" and "squad goals" train, a friendly trend that rose in popularity in the fashion world last year. According to Pop & Suki's press release, Waterhouse and Jamie are tapping into a supposed gap in the market: "...there were no fashion brands that celebrated friendship or catered for women who want to enjoy fashion with their friends as opposed to purely for personal consumption."
3. Customization
Though Pop & Suki only offers a camera bag ($195), shopper tote ($255) and a paperclip chain (between $120 and $700), customers can customize each style with various options, odds and ends. The camera bags can be monogrammed; different straps can make it into a backpack, wristlet, crossbody or fanny pack. The totes can feature a BFF keychain, tassels or a personalized luggage tag. The chain can be embellished with up to 12 different charms — a gold bar, cross and crystal disc among them — which range in price from $30 to $55.
4. Direct-to-consumer
No lengthy explanation here. Along with the increasing interest in "see now, buy now," skipping the wholesale model to directly ship to your consumers is the top business model of choice these days.
Click through the gallery below to see more images from Pop & Suki's launch.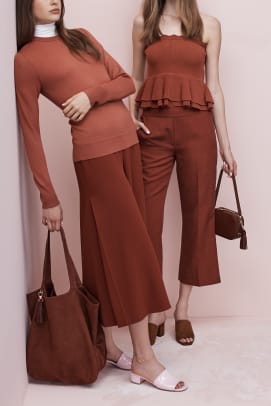 Want more Fashionista? Sign up for our daily newsletter and get us directly in your inbox.