Miuccia Prada Creates a Multimedia Fashion Collage (Including Allison Williams in a Wig) for Spring
The designer collaborated with Oscar-nominated director David O. Russell on a short film that was partially screened at the show in Milan.
So far, the overarching trend of Milan Fashion Week, besides a Hadid opening nearly every show, has been shows that make us feel like we're having a fever dream. First there was Gucci's pink haze, then Philipp Plein's surreal #aliceinghettoland set including a merry-go-round and performances by Fat Joe and Fergie; then, at Prada on Thursday, we were caged into a bizarre, multi-platform fashion show-film screening-installation hybrid that involved Allison Williams.
As we entered the show space inside Prada's headquarters (completely redesigned every season by AMO), every surface, aside from parts of the ceiling, was covered in "an expanded-metal layer forming an abstract configuration of overlapping mesh," per a release — also known as a cage. Leading up to the start of the show, the venue was filled with the sound of feet clicking and clanking. And as the first model took the angled, industrial steel ramp of a runway, a silent, black-and-white film began to play on a row of large screens behind her. The invitation promised a sneak peek at "Past Forward," a short film collaboration between Prada and David O. Russell, the Academy Award-nominated director of "American Hustle," "Silver Linings Playbook" and "The Fighter"; beyond that, we did not know what to expect. And then we saw it: Allison Williams of "Girls" in a blonde wig, looking like a skinny Hitchcock heroine. I truly thought I may have been hallucinating as the result of being jet-lagged, sleep-deprived and hungry, but nope, it was really her, 10-feet wide in the middle of a Prada show. Freida Pinto and Connie Britton also had screen time in the disjointed clips that made not one bit of sense.
According to the release, that was on purpose: "Russell imagined the installation as a surreal dreamscape with an eclectic cast replaying scenes in shifting combinations." (Presumably, the actual film, which is set to premiere in late October, will have more of a narrative.) As for how it fits into the show: the characters are meant to be "elements of a complex collage" and "the viewer is left to decode what is experience, what is memory, what is dream, and discern the overlap and the difference between them."
Indeed, the installation left us with a lot to discern, such as: Were we supposed to take Allison Williams seriously? And why did this show involve such a big distraction from Prada's bold, playful spring 2017 collection? The runway looks, too, felt a bit like complex collages (and, interestingly, Prada called her fall 2016 collection a collage, too). There were tailored daywear pieces like button-downs and blazers, paired with beachside elements like swimsuits and colorful sandals; bunches of feathers accented some part of nearly every look. Printed pajama suits were big this season, as well as Asian-inspired elements like mandarin collars — both things Prada has experimented with in the past.
Whether Prada wanted to give us something to pay attention to aside from the clothes, got the memo that experiential shows are on trend or simply felt like flexing a new creative muscle, we do not know. But regardless, this collection was filled with pieces that were distinctive, wearable and quintessentially Prada. And really, only those of us who were at the show will associate them with those film clips. To everyone else, they're just clothes, bags and shoes. Browse them all in the gallery below.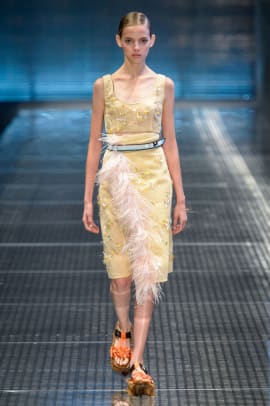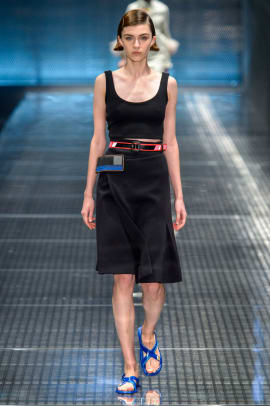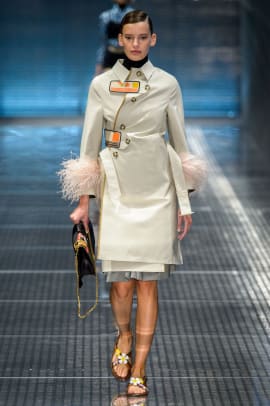 Want the latest fashion industry news first? Sign up for our daily newsletter.