Pyer Moss's Jean-Raymond Tackles the Election, 'Financial District Douchebags' and His Own Legal Woes in Spring Show
After fighting to keep his business and trademark, the menswear designer channeled his disillusionment into a collection entitled "Bernie vs. Bernie."
"I've gotten a little bit more comfortable with being real about these things that bother me," said Pyer Moss designer Kerby Jean-Raymond last week, ahead of his spring 2017 runway show taking place Sunday afternoon. He was explaining how it feels to put very personal issues on the very public runway stage, especially since press coverage escalated after he took a powerful stand against police brutality last September. His fall 2016 collection about depression and mental health, styled by Erykah Badu, was highly anticipated. But Sunday's presentation tackles a whole other kind of vulnerable subject: money problems. "This one is probably the most embarrassing to talk about."
"It's a collective bunch of ideas around money, economic status... the election and everything," said Jean-Raymond. It's also a product of his last nine months, during which he's been dealing with a nasty lawsuit from Rayon Baker, who alleged that he invested $35,000 into Pyer Moss starting in 2012 and accused Jean-Raymond of breach of contract, fraud, unfair business practices, trademark infringement, unfair competition and more.
He was hesitant to speak explicitly about any dispute, but said that as his public profile rose, he learned that with increased visibility comes increased vulnerability. "The more success you get, the more greedy people around you get," he said. "The money hasn't really started coming in, but the demands have grown higher... I haven't been the best judge of character in the past when it comes to who's who and who secretly wants to destroy you." It's been a valuable learning experience. "Hindsight is 20/20, but this past year has just been me fighting to not lose my business, not lose my trademark and dealing with a bunch of lawsuits." A rep for Pyer Moss said that while the lawsuit is ongoing and he is still working on buying out initial investors, Jean-Raymond fully owns his company and trademark and fully finances the brand himself. 
But all of this left the designer feeling disheartened about his position in the industry, three years after launching Pyer Moss. "And it led me to think about the way the whole economic structure works and how disenfranchised we continue to be." The result is a runway show entitled "Bernie vs. Bernie" — Sanders and Madoff — named for two people who represent extreme positions of socialism and capitalism. "As an idealist and somebody who is creative, I am constantly fighting; I'm like a Bernie Sanders, constantly at war with the Bernie Madoffs of the world, who constantly see me as meal ticket," he said. "Right now I'm facing it in two ways, I'm facing it as a designer... dealing with a bunch of charlatans in this industry, and just as a black person not being able to have the same economic opportunities that everyone else had or has."
Set against a soundtrack by Austin Millz of looping cash registers, Jean-Raymond's spring show subverts the traditional uniforms of bankers and lawyers. "I'm really deconstructing what is stereotypical Financial District douchebag clothing," he said, adding that he looked at the movies "American Psycho" and "Wall Street" for inspiration. He put a Pyer Moss twist on trench coats, striped shirts, white collars, silk robes and insignias. It's a "complete departure" for him because the clothing is more tailored than ever before and features less of the technical fabrics for which the label is known. Jean-Raymond's own legal problems are on display, too: "I took the docket of my lawsuit and turned it into a T-shirt." He's using images of Madoff's 2008 arrest in the same way. 
For those surprised that Jean-Raymond isn't turning his critical attention to Donald Trump, it did almost happen. "It was a big integral part of the show and the performance and we pulled it, we pulled everything having to do with him," he said. "I won't make any graphics about him. I won't give him any more fame." Jean-Raymond called Sanders "the president America needed" and Donald Trump "the president that America deserves" because he's the product of all the racism, celebrity worship and "filth that's been building up" in this country.
"We all want the same thing, everyone who's working with me on this collection... We don't want diversity, we want inclusion," he said. The spoken word artist Cyrus Aaron is opening the show with a poem, and other contributors/collaborators won't be named until afterwards. 
All the thought that goes into the performance elements of the runway shows is part of the reason why Jean-Raymond doesn't present during men's fashion week: he wants the extra time. "[And] maybe because I don't like people telling me what to do, maybe it's a sense of rebellion in that sense," he said. Indeed, the financial sector isn't the only industry that Jean-Raymond wants to take a shot at: it's "a lot of people in the [fashion] industry, too, the organizations that I think sometimes serve as extortion clinics," he said. "I don't want to be part of their stuff. I don't want any of their awards or anything like that." 
What he does want to do is tell a story in the smartest, least literal and most concise way possible. "We really care about intelligent people getting it," said Jean-Raymond. "Those are the real influencers: people with the high level understanding of art." And this time around, he's less worried about the show than he is the collection, because of all the tailoring involved. And just like in the past, he'll be working down to the wire before go time on Sunday. Fueled by the pressure, he remains committed to runway show format as more designers move away from it. "Go big or go Instagram."
See the spring 2017 Pyer Moss collection in the gallery below.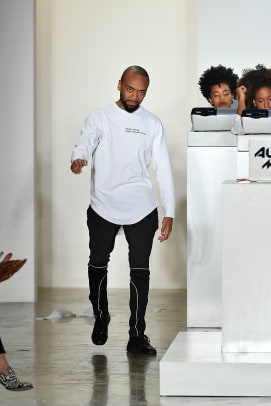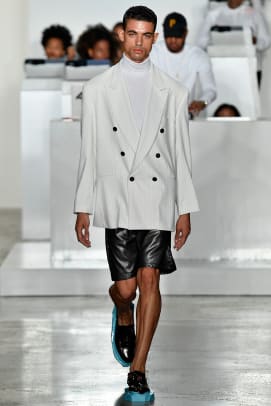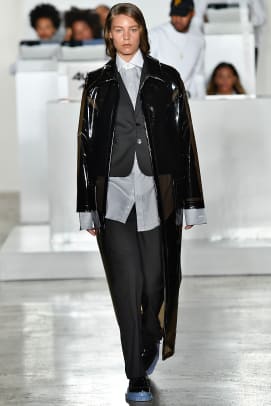 Stay current on the latest trends, news and people shaping the fashion industry. Sign up for our daily newsletter.