New York Fashion Week's Most Inspired Fashion Show Was A Basketball Game
What happens when two brands team up for one fashion show?
It's no secret that putting on a memorable show during New York Fashion Week is a challenge for any designer, let alone one operating on a smaller scale than, say, Tommy Hilfiger. There's the consideration of budget, of course; the effort required to make your collection and presentation stand out in a week packed with shows; and scheduling your time slot just right to ensure people actually come. That's why this season, Greg Armas of Assembly New York and Raquel Allegra decided to join forces for their inspired spring 2017 presentation — proving that in fashion, two can be more powerful than one. 
"We've known each other for at least 10 years; in fact, his store was one of the first stores that ever carried my brand," says Allegra. "I called him, and we were just having a really casual conversation about inspiration. I remembered him saying at some point a long time ago, 'Why don't designers do shows together?'; that came to my mind, and I asked him, 'Why don't we do a show together?'"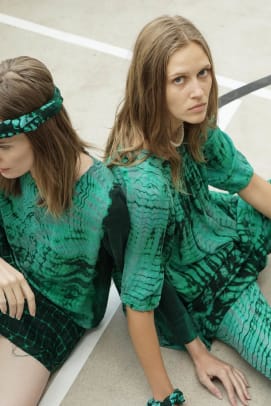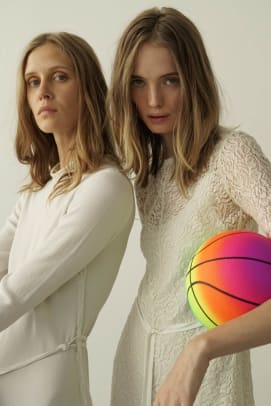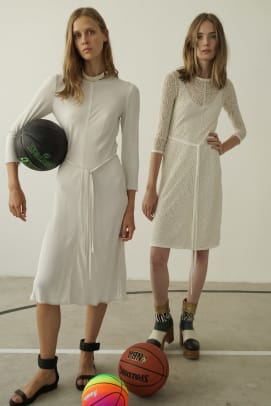 Allegra says she and Armas are "like family," and never worried that showing together would create a weird environment; she's always been a fan of Armas's presentations, and pooling resources created even more potential. The next thought Armas had was to tap a local all-female basketball team. A few of his friends were involved with the league and he had been trying to find a way to work with it for years, at one point offering to design the jerseys. A joint fashion show provided the perfect opportunity to team up. 
"I think Raquel and I echo the same sentiment in the type of women that we're designing for, and it's not the stage glamour, forced lifestyle, you know?" he says. "There's definitely a lot of humor and intelligence and things like that, that runs through Raquel's collection and the Assembly collection, so presenting it in a non-traditional format and getting to show women in athleticism as opposed to women as objects of desire walking on a runway, I think it was something that both really intrigued her and I. I know for me that's always been an emphasis: How can I show men and women in a different format than piece of meat with clothes hanging on them?"
The show itself would have put a smile on even the most cynical fashion editor's face. The designers each had a "team," and tapped the Brooklyn Titans youth cheerleading squad to give the event a little extra energy. (Their cheers included, "Go models, go!" and they even performed at halftime.) What better way to prove a collection is comfortable and wearable than with game-time runs, jumps and layups? And from a fashion journalist's point-of-view, getting to see two collections in one (enjoyable!) place was a win. 
Perhaps it's not a format that would work for every designer — certainly, finding someone with whom you share both a friendship and an aesthetic is not easy to find in this industry — but for Raquel Allegra and Assembly New York, it worked because there were no egos involved and neither brand felt threatened by sharing the spotlight. Rather, the joint event shined a brighter light on everyone involved. 
It was also a more realistic presentation of how women get dressed today, basketball aside. "It's not in a bubble that I create, and it's not in a bubble that I want people to wear the clothes," says Armas."It's supposed to be integrated and [shoppers are] probably going to wear it with multi-brands... To me, it's bringing a little bit more of the reality of the application of fashion into the way it's presented."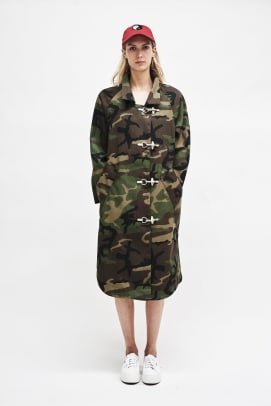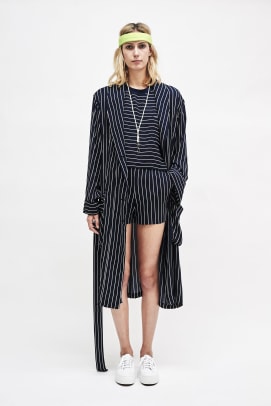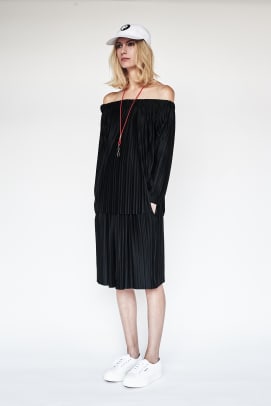 Want the latest fashion industry news first? Sign up for our daily newsletter.