Rebecca Minkoff Gets By with a Little Help from Her Blogger Friends
The #influencer trend just hit a whole new level.
Rebecca Minkoff knows where her bread is buttered. Much of her business is centered around partnerships with bloggers, who promote her bags and clothes to their collective millions of followers. But having bloggers sit front row and create content is one thing. Having them walk your runway and be the content is a completely different selling beast.
Power influencers Chriselle Lim, Arielle Nachmani of Something Navy, Gala Gonzales, and bestie duo Caroline Vreeland and Shea Marie (hand-in-hand, natch) all walked in Minkoff's Fall 2016 "see now, buy now" — or "runway to retail," as per the invite — fashion show. It's not the first time Minkoff has tapped blogger talent for a fashion show: Rumi Neely posed in her Spring 2011 presentation. But the scale of Saturday's show was on a completely different level. Minkoff shut down Greene Street in front of her Soho boutique to set up two rows of bleachers, leaving just enough room for models to squeeze through on a tiny, cobblestone runway. Pedestrian traffic was allowed through, and a healthy-sized crowd of tourists witnessing one of those crazy, only-in-New-York moments they come to see had gathered behind the barricades (the "open to the public" aspect of the show). 
There is one major benefit of showing "see now, buy now" that perhaps hasn't been discussed in depth that surfaced with the blogger element. When Caroline Vreeland sauntered past in a velvet slip dress layered over a tee, I felt surprised that they had found something to work with her large bust. But the answer is obvious: They already had her size. If a designer has the full size run already produced and available to put on the runway, rather than just a set made in the tiny sample size, perhaps we could see an improvement in size diversity at fashion week. 
The clothes — available to buy now, obviously — were exactly what Minkoff's slightly boho, slightly rock'n'roll consumer are going to want to wear when temperatures (finally) drop. There were pretty, dark floral prints in floaty chiffons; leather and suede separates dotted with rivets and heavy coats with furry accents. One standout look involved a pair of electric blue sequined pants paired with a matching oversized bomber. The accessories, Minkoff's strong suit, were also perfectly of-the-moment, with embellished guitar straps on boxy shaped bags and crushed velvet ankle booties giving her customer the Minkoff spin on fall's hottest trends.
Like with Tommy Hilfiger's Tommy Pier blow out, this isn't a show format that would work for every designer. But for Minkoff, for whom selling clothes takes priority over setting trends, she may have found her fashion week stride.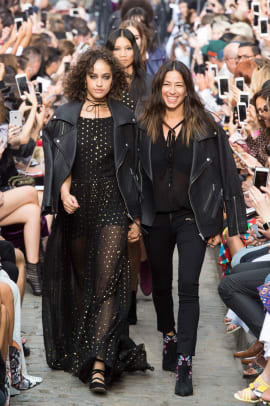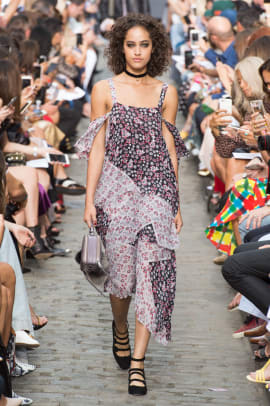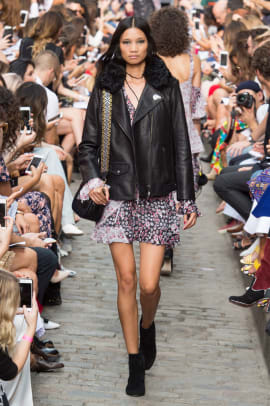 Want the latest fashion industry news first? Sign up for our daily newsletter.